Queen Will Celebrate the Legacy of Their Greatest Song With A Dedicated Beer Brand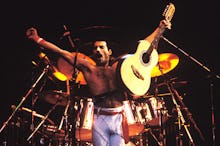 Is this the real life? Or is this just fantasy?
Queen, one of the most iconic glam rock bands in history, announced it will be crafting a new beer to celebrate the 40th anniversary of the greatest rock 'n' roll sing-along ever written: "Bohemian Rhapsody." It's almost too good to be true. Because the only thing better than blaring "Bohemian Rhapsody" at full volume is blaring "Bohemian Rhapsody" with a beer in hand.
Freddie knows the drill.
Billboard reports the Queen Bohemian Lager be rolling out later this summer, starting in Europe before spreading to the rest of the world. Fittingly, the beer is being brewed in the Czech Republic, aka Bohemia, an area renowned for its lagers, specifically pilsners, which are named after the Czech city of Plze?. The beer is reportedly "golden" and "hoppy" with a respectable 4.7% ABV, according to the Guardian. It sports the band's crest, which lead singer Freddie Mercury designed while attending Ealing Art College, Billboard reported.
The Queen Bohemian lager isn't the band's first foray into the alcohol racket. They released a Killer Queen vodka to celebrate the 40th anniversary of that hit last year. They're also far from the first artist to be celebrated in booze: Frank Zappa once adorned the labels of a Lagunitas series. They had planned to do one for each of his albums, before the Zappa family asked them to stop in 2009.
Jazz pianist Thelonious Monk also has a signature brew, a 10% ABV belgian style abbey ale whose proceeds to go to a foundation named in the pianist's honor.
Alcohol truly makes the music industry go 'round. It's fueled the creative habits of so many renowned acts, and it may now fund a reunion tour or two in the case of Queen. According to NME, the band has expressed interest in headlining the Glastonbury festival if Adam Lambert agrees to take Freddie Mercury's place on vocals. The band's guitarist insists Lambert is apparently the only person "who can do all the Queen catalogue without blinking." But can Lambert rock "Bohemian Rhapsody" as compellingly as Freddie? Or as Wayne and Garth? Perhaps we shall see.
h/t Billboard