Silent Norma From 'Orange Is the New Black' Has a Punk-Rock Past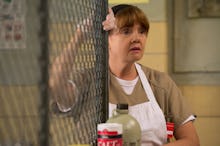 She may play silent inmate Norma Romano on Orange Is the New Black, but Annie Golden's past is anything but quiet.
As Twitter users and outlets like Aux noted this past weekend, Golden was once the frontwoman for a '70s punk rock band called The Shirts. Quite a difference from her stutter-impaired Litchfield inmate.
Active in the mid-to-late-70s, The Shirts played regularly at renowned club CBGB in New York, according to Aux. They released three albums together as well before breaking up. The band actually reunited in 2001 and is still together today, but without Golden on the mic.
Immediately after the band's initial separation, Golden tried her hand at a solo career. She even had a song of hers, "Hang Up the Phone," featured on the Sixteen Candles soundtrack.
She also worked on stage in productions like Hair, On the Town and the earliest workshop of the musical adaptation of Stephen King's novel Carrie, playing the title role. When she transitioned into film and TV, one of her first roles was in the 1979 film adaptation of Hair.
The news that OITNB's mute character has a spectacular voice will likely come as a huge surprise to fans. It's yet another example of the series' performers having lives as rich as their characters', like the recent reveal that Kate Mulgrew (Red) helps provide acting classes to Rikers Island inmates. Before she was cast on the show, new inmate Ruby Rose (Stella) had an extensive modeling and DJing career.
In many ways, this fits the Netflix series perfectly. OITNB loves to shock its audience by revealing the backgrounds of the Litchfield inmates. The revelation that Silent Norma was mute because of a stutter was one such surprising reveal. Why wouldn't the actresses behind these complex women be multifaceted as well?
Silent Norma as a punk-rock star: Just another reason to love OITNB.