This Ivy League University Just Took a Huge Step to Fight Mass Incarceration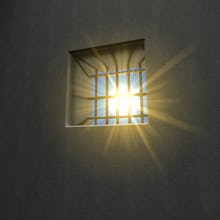 Columbia University has become the first college in the nation to divest from the for-profit prison industry, according to the Columbia Spectator.
On Monday, the school's board of trustees voted in favor of withdrawing from investments by its $8 billion endowment in corporations that operate for-profit prisons.
"This action occurs within the larger, ongoing discussion of the issue of mass incarceration that concerns citizens from across the ideological spectrum," Columbia trustees said in a statement, according to the Huffington Post. "We are proud that many Columbia faculty and students will continue their scholarly examination and civic engagement of the underlying social issues that have led to and result from mass incarceration."
The background: In 2013, Columbia students found out that the university's endowment held nearly $8 million worth of shares in Corrections Corporation of America, the fifth-largest corrections system in the country, and roughly $2 million worth of shares in G4S, a global private security behemoth. A vociferous student campaign emerged in response to the discovery, demanding that the university divest from the companies and generally increase its transparency on its investments.
In April, the university's Advisory Committee on Socially Responsible Investing announced that the university no longer held shares in CCA, according to the Spectator. But under the new policy, the university will be compelled to divest from its stocks in G4S, and will be prohibited from making any investments in for-profit companies in the future.
The decision marks a tremendous victory for the university's student activists who have campaigned for divestment since 2014.
"Our strategy in targeting private prison companies specifically has been in effort to call out the ways in which these companies exploit the intimate ties between anti-black racism, criminalization of immigrant communities, gender policing, and settler colonialism," Columbia Prison Divest announced on its Facebook page after learning of the divestment decision. "[For-profit corrections corporations] CCA, GEO Group and G4S (the main targets of our campaign) make money from anti-black drug laws, mass deportation of immigrants and mass incarceration, policing and surveillance in occupied Palestine."
Why it matters: For-profit prisons typify some of the worst elements of the U.S.'s mass incarceration problem. When companies seek to make money off institutions that house the vulnerable and powerless, they end up exploiting them: For-profit corrections companies take remarkable measures to ensure that the U.S. maintains and expands its addiction to incarceration.
But initiatives to shine a light on the perversities of for-profit prisons are often just an entry point into a broader conversation about mass incarceration.
"We hope that Columbia's divestment contributes to the larger anti-prison movement in effort to weaken mainstream notions that prisons [equal] justice and prevent private prison companies and other institutions from upholding punitive frameworks of justice," Columbia Prison Divest said on Facebook. 
Hopefully other colleges follow Columbia's example in the near future.