This Campaign Is Shattering Stereotypes About People of Color With Mental Illness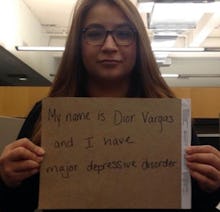 Like many others, Dior Vargas struggled in silence with her mental illness for years. She felt deeply influenced by the stigma surrounding mental health, especially as a young woman of color. 
"I came to realize that a huge part of this stigma is because people of color are not included in the representation of mental illness," the Latina feminist activist told Mic in January. "How can we destigmatize this in our community if we are never shown in its representation?"
To address this lack of representation, Vargas launched The People of Color & Mental Illness Photo Project, which she said earlier this year aims to empower people of color to "speak out and unburden themselves of the shame and secrecy" of living with a mental illness by changing how people of color with mental illnesses are represented, according to its website. Now, she's taking her project to the next level: Vargas launched a Kickstarter campaign last week to support and expand these efforts.
Sixty-one individuals so far have contributed images to the campaign and have undoubtedly impacted many others with their bravery. But Vargas hopes to reach even more by raising funds to take 50 professional, high-resolution portraits in a studio space and contextualize the images with interviews of each subject.
"Not everyone has Internet access, and I think it's important to be aware of that," Vargas told Mic. "I hope to get these pictures printed in a book so that I can bring these books into the communities I want to serve," she said, adding that she'd also like "to show these pictures at galleries in these communities so that there can be a continued discussion and a creation of a community of people of color working together and supporting one another." 
Studies back up Vargas' claim that mental illness is a unique and under-addressed experience for people of color, who are in fact, less likely to take advantage of mental health services than their white counterparts, according to a National Center for Biotechnology Information study published in 2011. Many factors contribute to this reality, including culturally specific stigmas about mental illness in many communities of color as well as institutional barriers like decreased access to and poorer quality of health care in these communities.
With financial support, Vargas ultimately hopes to save lives. "So many of our loved ones are dying at their own hands," Vargas told Mic, noting that there is a disproportionately high rate of attempted suicide among people of color. "I want to give people a reason to keep going. To continue the fight and support each other's mental health. We are not alone in this experience."
While the obstacles people of color with mental illness face are often deeply rooted in systemic racism and oppression, projects like these undoubtedly do much to reduce stigma and help individuals with these experiences feel less alone — the beneficial impact of which cannot be underestimated.