The Alabama Governor Just Quietly Took Down Their Capitol's Confederate Flag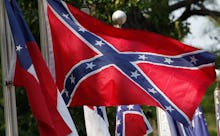 Alabama's Republican Gov. Robert Bentley has quietly ordered the Confederate flag that had flown on the statehouse grounds in Montgomery be removed, the Huntsville Times reported.
Bentley was blunt about his intentions, saying the issue was partly related to the current controversy erupting in South Carolina and his desire to avoid a similar imbroglio in Alabama.  
"We are facing some major issues in this state regarding the budget and other matters that we need to deal with," he told the Huntsville Times. "This had the potential to become a major distraction as we go forward. I have taxes to raise, we have work to do. And it was my decision that the flag needed to come down."
The governor's decision shows how quickly the flag, once an untouchable symbol of Southern politics, has become toxic. On Monday, South Carolina Gov. Nikki Haley announced she would support the removal of the flag from the statehouse grounds, reversing a position she held in 2014. The sentiment was echoed by South Carolina Sen. Lindsey Graham, who reversed a position he held merely days before. 
Meanwhile, in Mississippi, which carries an image of the Confederate battle emblem on its official state flag, Republican House Speaker Philip Gunn called for a revaluation. 
"As a Christian, I believe our state's flag has become a point of offense that needs to be removed," he said in a Facebook post. "We need to begin having conversations about changing Mississippi's flag."
It is currently unclear whether the Confederate flag will remain down in Mississippi's state capitol.