Spotify Just Picked 3 Songs to Win the Title "Song of the Summer" — And They're Amazing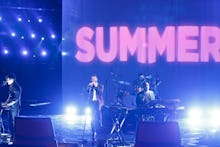 "Song of the summer" is more or less an arbitrary accolade. It doesn't have a selection committee, clear variables or any publicized award ceremony. But it's still one of the most coveted titles in music, one that songwriters have been seeking since the early 1900s. These days, it is often awarded to the song that tops the summer's streaming, download and radio spin charts, though public opinion has the final say come fall. And one very respectable institution just put its vote toward an unlikely three.
Wednesday, streaming leader Spotify released its picks for this year's song of the summer via a playlist shared in the app. Topping the list are three criminally overlooked pop tracks: Jamie xx's "I Know There's Gonna Be (Good Times)," featuring Young Thug and Popcaan, The Weeknd's "Can't Feel My Face" and Maroon 5's "This Summer's Gonna Hurt Like A Motherfucker." 
Twenty one other songs round out the list, including Deadspin's favorite, Fetty Wap's "Trap Queen." This summer is going to sound pretty sweet.
Methods: To create its list, Spotify mixed hard data with insights from its label relations team and trend experts, according to a press release. They took into account streaming activity and performance on Spotify's viral chart, which calculates the number of times users share the song divided by the number of listens, and filtering for songs that captured a positive, summery vibe. "I Know There's Gonna Be (Good Times)" by Jamie xx, one half of the electro group The xx, captures exactly that. It's strikingly different than his band's dark, atmospheric fare. But according to the artist, doing something different was part of the point.
"I was in New York when I made the track and I was living in Brooklyn, driving to Manhattan everyday listening to Hot 97," Jamie xx told MusicTimes. "It was the perfect soundtrack and I wanted my own track to be a sort of summer tune."
The Weeknd's latest is also an excellent candidate. Premiered at Apple's recent Worldwide Developers Conference event, it includes all the song of the summer characteristics we've come to love — and which Spotify has identified as vital for a summer hit. Like many others, "Can't Feel My Face" has a danceable beat, brisk tempo, and upbeat and positive emotional valence. It's one of the only upbeat tracks The Weeknd has ever recorded. 
And while Maroon 5's "This Summer's Gonna Hurt Like A Motherfucker" is not nearly as infectious as their previous hit "Sugar," it expertly channels those summery vibes.
Spotify's list also highlights a number of up-and-coming artists. Leon Bridges' "Smooth Sailin'" evokes the classic doo-wop and soul of summers long past. And Alessia Cara's "Here" captures that feeling of getting stuck at a terrible party full of fake friends, which is unfortunately an integral part of all summers.
These newcomers don't have much of a shot of making it onto Billboard's Songs of the Summer charts, which tabulates streaming, download and radio spin charts. But they make for far better summer jams than Wiz Khalifa's depressingly bland "See You Again" (no disrespect to Paul Walker), which currently sits at the top.
Spotify's curated list seems to be a better measure of the songs listeners are actually talking about. People are sharing these songs of their own volition, not relying on radio to tell them what's hot. Perhaps it's a sign that the song of the summer will be a more democratic race this year, and we won't have to suffer having a song forced into our ears like Iggy Azalea's "Fancy" was last year.
Take a look at the playlist in all its glory here, and then share those songs you think should define our summer.