A 24-Year-Old Has Spent Obama's Entire Presidency in Jail Without a Trial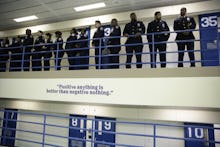 A lot has changed in the past seven years: Barack Obama became president, 24 got cancelled and the Great Recession carved its devastating path through America's collective wallet.
But one thing that hasn't changed is 24-year-old Carlos Montero sitting in a jail cell. Since 2008, the Rikers Island inmate has been locked up on charges he still hasn't gone to trial for, let alone been convicted of. His story lends troubling insight into our justice system's shortcomings.
Montero has seen plenty of hearings, to be clear. The Marshall Project reports that he has appeared before a judge 77 times over the past 2,431 days, often with his two co-defendants, who are charged with stabbing one man to death and assaulting another who came to the victim's aid (a co-defendant is the alleged stabber, not Montero).
But an actual trial remains elusive. The Marshall Project adds that reasons for the delay include repeated motions to suppress a piece of DNA evidence, resulting in years of inertia; more motions to combat those motions; the judge's apparent unwillingness to separate Montero's case from that of his co-defendants (which he is allowed to do); and the prosecutor's insistence that all three defendants be tried at once, thereby heightening their chance of conviction.
All are compounded by a seemingly endless cycle of finger-pointing that would have a pre-school classroom rolling its eyes. But at the end of the day, "The length of time that this case has lingered is unacceptable," a representative from the Manhattan district attorney's office told the Marshall Project.
The Sixth Amendment — which includes the right to a speedy trial — apparently doesn't even apply here: Nobody can agree on whether the prosecutors are at fault for the delays, the Marshall Project reports.
It's a mess. According to the New York Times, around 400 inmates have been awaiting trial for more than two years at Rikers Island. Montero's story assumes added weight following the case of Kalief Browder, who died by suicide last month after having spent three abuse-filled years at Rikers without a trial. Browder's 2015 Bronx Community College research paper on solitary confinement — where he spent two of his three years in prison — can be read here.