Six Months After Raising Its Minimum Wage, Here's the Socialist Hellscape IKEA Has Become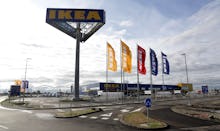 Just six months after dramatically increasing minimum wage for many of its American workers, IKEA said on Wednesday that it plans to raise their pay even further, bringing the average minimum pay at its stores to nearly $12 an hour.
The initial increase hardly ruined the company. According to the Huffington Post, half a year after initiating the new wages, which amounted to a 17% increase in average minimum pay, IKEA stores are set to have a 5% decrease in their employee turnover rate by the end of the fiscal year. The company also says they've seen an increase in the number of competitive job applicants.
IKEA's new wage announcement raises wages another 10%, and brings the average minimum wage at its stores to $11.87 per hour.
Why they did it: These days, raising the minimum pay for workers at corporate giants is very much in vogue — this year McDonald's, Wal-Mart, Target and many others have all announced significant bumps for their lowest-paid workers.
The reason these companies are increasing worker pay is a mix of two factors. The first is that increasing wages is a sign of the health of the overall economy: As unemployment declines, companies must offer higher wages to remain competitive. The second is the effect of pressure from a national movement for a $15 minimum wage that is flourishing unlike any such campaign has for decades.
But the manner in which the Swedish icon of affordable living has raised its wages has been different than other companies that have recently done so and points to a potential shift in how retailers and the government could determine minimum wages.
Living wage vs. minimum wage: Last year, IKEA raised its minimum wage across all of its U.S. stores, but didn't do so uniformly. That's because it aimed to have its minimum pay meet the standards for a living wage, which varies based on cost of living in a location. IKEA used the Massachusetts Institute of Technology's Living Wage Calculator to determine the minimum wage at each of its 40 U.S. stores. This calculation establishes an hourly wage based on geographically specific data about the prices of housing, food, health care, transportation and so on. Using the Living Wage's threshold for poverty, more than a third of American households live in poverty, compared to the federal government's official estimate of 20%.
This shouldn't be entirely surprising: It's too early to say what kind of effects the higher wages will have on IKEA's worker performance in the long run, and it also remains to be seen if they continue to tie their lowest wages to MIT's calculator in the future (consider that the Washington Post reports that a recent change in the way MIT calculates living wage means that just about a third of U.S. IKEA workers will receive an even bigger raise than originally anticipated).
The key takeaway is that IKEA has determined that decent wages and a well-run business are not only not mutually exclusive but, in fact, complementary. The chief financial officer for IKEA U.S. told the Huffington Post that the new raise atop last year's raise "makes strong business sense." Indeed, surveys find that small business owners routinely see more productivity and less turnover among better paid employees, and that they're able to accommodate higher wages without infringing on profitability. 
As a company notorious for a radical obsession with efficiency, IKEA is banking on the idea that happier, competitive employees means better business. 
h/t Huffington Post