Judge Sentences Dzhokhar Tsarnaev to Death by Execution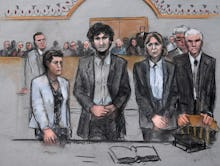 The Boston bomber, Dzhokhar Tsarnaev, who was convicted April 8 of murder for his role in the 2013 Boston marathon terrorist attack, appeared in court Wednesday for his formal sentencing hearing. 
After his conviction, a federal jury handed down Tsarnaev's sentence: the death penalty. The jury opted against life without parole. 
In court, Tsarnaev expressed his remorse. Speaking to members of the family who had come to witness the latest chapter in the heartbreaking saga, the convicted murderer said, "I would like to now apologize to the victims and to the survivors."
Shortly after Tsarnaev spoke, the judge shared some of his own thoughts as well.
There have been only three completed executions in the United States, all by lethal injection, since 1963.
Strictly speaking, the sentencing was a formality as Judge George O'Toole was bound to follow the wishes of the jury, which had previously sentences Tsarnaev to death.
Tsarnaev's speech was a significant departure from his largely stoic demeanor during the trial earlier this year. While his lawyer, Judith Miller, began by acknowledging that the guilt of her client was beyond question, she plead not guilty in an attempt to spare Tsarnaev the death penalty. The jury was ultimately unpersuaded, particularly after the prosecution showed video footage of a defiant Tsarnaev raising his middle finger to a prison security camera.