Killer Mike Just Nailed the Issue With the Confederate Flag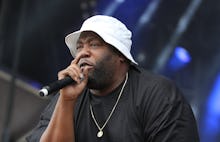 "Long live the South and quickly die the Confederacy." 
Killer Mike wrote a spot-on op-ed for music magazine Fader on Wednesday, addressing the divisive issue of the Confederate battle flag and its place atop the South Carolina state capitol. The ever-vocal rapper and political commentator took the government to task, talking about the flag issue not from a racial or emotional perspective, but from America's perspective. He wrote in part: 
Dylann Roof certainly thinks [the Confederate flag] is racial, and there are people who are proponents for it because it's racial. But I don't give a damn if he wore it on his jacket ... What I care about is an environment where states like South Carolina will allow that flag to fly above their state building and they know that flag is used as a symbol of empowerment for white supremacy. I care that it's allowed to enforce a sick and perverse mentality by hanging atop a state building that taxpayers pay for ... As an American, I will not honor a group of treacherous traitors. That's why I despise the rebel flag. Long live the South, and quickly die the Confederacy.
Fader published the lengthy op-ed on the same day that Alabama's Republican Gov. Robert Bentley quietly removed the flag from the capitol building. Debate still rages over the flag's place on the Mississippi state flag, as well as its place in retail stores across the country. But as Killer Mike points out, the real issue here isn't how Americans interpret the flag; the real issue is that the government of South Carolina chose to fly it above a taxpayer-funded government building. 
This op-ed isn't the first, nor will it likely be the last time that Killer Mike speaks out about political issues. In the past, he's railed against racist perceptions of hip-hop and the uneven media coverage during Baltimore's protests in early May. And in early June, the rapper announced that he one day plans to run for political office. 
Killer Mike for president.