Meet Audrey Middleton, the First Transgender Contestant in 'Big Brother' History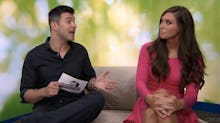 During Wednesday night's premiere of the 17th season of Big Brother, fans met 14 new contestants vying for half a million dollars. Only one of them can win — but one in particular, whether or not she does, will have made her mark on the show for years to come.
Meet Audrey Middleton, a cutthroat competitor with a fiery desire to win. She is also the first transgender contestant in Big Brother history.
Middleton wasted absolutely no time telling her fellow contestants who she is. The moment of truth was cut for maximum suspense. The question wasn't what she would say, but how would the other contestants react? Luckily, she was immediately welcomed by a chorus of cheers and compliments.
"This is my first time even admitting it on a public forum," she admitted afterward. While there were perhaps too many comments about her body, the overall tone was one of great acceptance and excitement. It's easy to imagine she was thrilled with the outcome.
The episode wasn't Middleton's first introduction to fans, though. Word leaked of the contestant's gender identity ahead of the premiere and was confirmed by host Julie Chen on her other show, CBS's The Talk. After said leak, CBS released a statement indicating that Middleton would be the first to speak during the show's premiere.
"She will be telling her story to the houseguests on opening night," Big Brother executive producer Allison Grodner said in an interview with the Hollywood Reporter. "I want to leave it for her to tell." 
In the meantime, Big Brother obsessives began guessing abut Middleton and the rest of her cast. One such speculator was Andy Herren, the winner of Big Brother's 15th season and the show's only LGBTQ champion.
"It'll be very interesting to see how the audience reacts to her," Herren said in an interview with Mic. "I really do think that opposition of her will come with people who will be in opposition to opposition to her. They'll be very quick to defend her, very quick to call people transphobic and call people out, if they're hating on her for being trans."
Before there's a certain level of panic in the air about how Middleton will be depicted. "Big Brother's trans contestant is not just a spectacle — will CBS treat her like one?" the Guardian worried. Others wondered why Middleton hadn't talked about her status before the premiere. "Audrey Middleton Hiding Transgender Identity?" HollywoodLife questioned.  
At such a sensitive moment in the campaign for greater trans visibility, positive role models like Caitlyn Jenner and Laverne Cox are important. Fears Middleton wouldn't be depicted in a similar light were understandable, both because of the kind of show Big Brother is and the kind of contestant Middleton seems to be. 
"Nobody's off limits," she said in her pre-show interview. "I'm gonna do whatever I have to do." On last night's premiere, she compared herself to the titular serial killer character on Dexter.
Positive role models like Caitlyn Jenner and Laverne Cox are important. Fears Middleton won't be depicted in a similar light are indeed founded.
From what producers have said, the show is going to let Middleton be Middleton. "She says this herself: being transgender doesn't define her," Grodner told the Hollywood Reporter. However, she added, "We hope it's a positive thing, absolutely."
Even though Wednesday night was a shining moment of acceptance, the season is just beginning. Big Brother doesn't often bring out the best in people. Last year's gay contestant, Frankie Grande (brother of Ariana Grande), told a particularly heinous rape joke during his season about a female contestant. In Herren's season, several contestants lost their jobs over racist remarks said on the show's live feeds. 
Viewers rushing to judge Middleton for her gameplay, however, should heed Herren's word of caution.
"I am of the mindset of what people say or do in that house is not who they are in their everyday life," he said. "If Audrey backstabs America's favorite, she shouldn't be looked at as a terrible example of the trans community."
The good news: Middleton isn't alone in the house. This Big Brother cast has not one, not two, but three queer contestants. Along with Middleton, the cast will include Vanessa Rousso, a poker player from Las Vegas, and Mississippi boy Jason Roy. That's a record for the show, and a sign that the casting process is diversifying — very slowly, but surely. 
Middleton's reception Wednesday night was an incredibly encouraging sign. Hopefully, if she plays the game well, Herren won't be the only LGBTQ winner for long.
Big Brother airs three times each week (Wednesday, Thursday and Sunday), but dedicated fans can watch the show's infamous 24/7 live feeds at any time on the CBS website.