6 Reasons Bobby Jindal's 2016 Presidential Campaign Is Doomed to Fail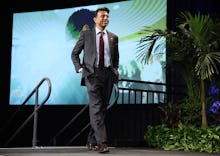 Lucky No. 13 has arrived.
In a speech just outside New Orleans, Louisiana Gov. Bobby Jindal announced on Monday he would seek the Republican Party's much sought-after presidential nomination. With the decision, Jindal joined a dozen other GOP hopefuls, ranging from former Florida Gov. Jeb Bush to Donald Trump, in a crowded and increasingly rowdy field.
"There are a lot of great talkers running for president already," Jindal said. "If great speeches helped our country, we'd be on easy street right now," a dig at both his Republican opponents and President Barack Obama.
Jindal's Louisiana is facing a serious budget crisis, but the candidate argued the flow of young workers to the state validated his policies.
"Today, we have more people moving into Louisiana than out of it, our highest population in history," Jindal said, arguing for his economic record. "Our kids are coming home."
Jindal will need to make serious strides in order to find a home on the first Republican primary debate stage. The party and Fox News, who will host the Aug. 6 event, have said only the 10 highest polling candidates will be invited to partake. Right now, Jindal falls well outside those parameters.
Though he could well move the needle over the coming six weeks, Jindal is a heavy underdog in the GOP race. Here are six reasons his new campaign is almost certainly doomed to fail.
1. His reputation in Louisiana is in the gutter.
Jindal has become a deeply unpopular governor in his home state. He's been traveling extensively to early primary states on Louisiana taxpayers' dime while state lawmakers wrestle with a harrowing budget crisis, one caused at least in part by massive tax cuts enacted under Jindal's watch. The Washington Post recently said Jindal is "at open war" with fellow Republicans and business leaders in the state.
A poll in May found Jindal's approval rating in Louisiana to be a dismal 31.8%, down 22 points since December, and 10 points lower than Obama, who lost the state in 2012 by more than 17 points. A full 64.7% of Louisianans disapprove of Jindal's performance in office, making him one of the least popular governors in the country. Earlier in his tenure, his approval rating stood at 70%, making his downfall all the more striking.
2. He supported a "religious freedom" bill that was too radical even for his fellow Republicans — and it failed spectacularly.
Earlier this year, Jindal emphasized that passage of the "Marriage and Conscience Act" was one of his highest legislative priorities. The bill's ostensible purpose was to prevent retaliation by the state against people who oppose gay marriage on religious grounds — much like laws in Indiana and Arkansas that sparked a national firestorm in March and April. Opponents argued the law would have effectively legalized discrimination against gay couples.
The measure failed to make it out of committee in the Louisiana legislature, falling in a lopsided 10-2 vote. Business leaders and state Republicans recognized the potential for boycotts and protests that eventually led to the Indiana and Arkansas laws being amended, and opposed the bill on those grounds. Jindal was undeterred. After being turned back by legislators, he signed an executive order intended to have the same effect as the law, essentially doing an end-run around the legislature. The decision was widely seen as a way to position himself for his presidential bid, further angering his one-time allies back home.
3. He totally blew his most high-profile national speech.
Back in 2009, before his reputation in Louisiana was in tatters, Jindal was seen as an up-and-coming power player in national Republican politics, and he was selected to give the response to Obama's State of the Union address. Many saw his speech as a dress rehearsal for a potential 2012 presidential bid if all went well.
Nothing went well. The speech was a disaster — his folksy delivery and simplistic language stood in stark contrast to Obama's soaring rhetoric and forceful style. Jindal was decidedly not ready for prime time and was ridiculed for weeks on end. The speech was the single biggest reason for his precipitous fall from grace in the run-up to the 2012 election, which he ultimately decided to avoid altogether.
4. The video he used to announce — kinda — that he was officially running for president is super bizarre.
If Jindal learned anything about the media from the State of the Union mess, it was not readily apparent in this profoundly weird video released on Facebook and his campaign website early Wednesday. 
Here's the set-up: Jindal and his wife, Supriya, have decided he is going to run for president. But before Jindal goes and tell the world, he needs to tell his kids. So how does he do it? As you can see in the video below, he does it by planting a (secret?) camera in a tree above a table in their yard, then explaining to the children, "We have decided we are going to be running for president."
The kids appear about as excited as GOP voters. 
5. He's barely registering in the early polls.
While his children will likely become more energetic supporters, Jindal faces a lot of competition for the rest of the party's affection. The governor is jumping into a crowded Republican field and, if early polls are any indication, there's little chance he'll make much of a splash.
The RealClearPolitics average of national polls puts Jindal in dead last among 14 Republican contenders, garnering the support of just 0.8% of likely GOP primary voters. In Iowa, it's the same story: Jindal is currently backed by just 1% of Hawkeye State Republicans. New Hampshire isn't any better.
While the first contest is still seven months away, Jindal's dismal showing in the early polls indicates the Republican primary electorate has already written off his candidacy. After months and months of extensive travel to Iowa and New Hampshire, his static numbers suggest it is getting late very early for the Louisiana governor.
6. Jindal is much more conservative than many members of his own party.
Jindal's policy positions, particularly on social issues, place him firmly to the right of many members of his own party. His advocacy for the aforementioned "religious freedom" bill came at a time when his fellow Republican governors realized that the country has shifted on gay rights issues.
Jindal rejected Common Core education standards after previously supporting them, a transparent attempt to shore up his conservative credentials ahead of his White House bid. To that end, he's gone to great lengths to build a reputation as a foreign policy hawk, routinely railing against the threat of Islamic extremism at home and abroad. He once called Muslim immigration an "invasion" and "proposed to block entry to people 'who want to come and try to impose some variant of Sharia law,'" according to the New York Times.
While building strong conservative bona fides might be Jindal's only path to connecting with GOP primary voters, his increasingly harsh and cynical rhetoric makes him unlikely to expand the party's electoral map in the very unlikely event he captures the nomination.