A Black Church in North Carolina Was Just Deliberately Set on Fire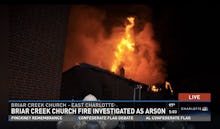 North Carolina officials have ruled a fire that broke at a historically black church in Charlotte was an act of arson and are now trying to determine whether the act was also a hate crime.
"We completed our work on the scene and determined this was intentionally set," David Williams, Charlotte Fire Department's senior fire investigator, told Reuters. 
The blaze engulfed Briar Creek Baptist Church early Wednesday morning, completely destroyed the main building and causing an estimated $250,000 in damage. No civilians were hurt, but two firefighters had minor injuries, the Washington Post reported.  
"Anytime anybody sets any kind of structure on fire that's disturbing," Charlotte Fire Department Public Information Manager Cynthia Robbins Shah-Khan told the Washington Post. "But as of today we don't have any information one way or the other. The investigators are just going to be following the leads and seeing where it takes them." The fire reached the three-alarm level and took about an hour to be contained, according to WCNC.
The Charlotte Fire Department kept the public informed through early-morning updates on Twitter.
If the arson is ruled a hate crime, it would mark the second time in a week that racist violence had come to a historically black Southern church. At the time of the arson, the state's southern neighbors continued to mourn the dead from a massacre at a Charleston, South Carolina, church that killed nine people. The gunman, Dylann Storm Roof, had been indoctrinated by a white supremacist website and had hoped to ignite a race war. The event sparked an outpouring of spontaneous vigils, with President Barack Obama set to deliver the eulogy Friday for the church's former pastor and Sen. Clementa Pinckney. 
Another act of terror against a historically black church would echo the narrative of a very different era in American history, when racist violence against houses of worship were considerably more common. In 1963, as the civil rights movement gained steam, the Ku Klux Klan set a bomb underneath the 16th Street church in Birmingham, Alabama, killing four girls and leaving more than 20 injured. Only a year later in Longdale, Mississippi, Klan members attacked and beat parishioners of the Mount Zion AME Church before burning it to the ground. Even as recently as 2008, shortly after the election of America's first black president, white racists targeted the Macedonia Church of God in Christ in Springfield, Massachusetts.
With the sensationalism surrounding the Charleston massacre, the threat of copycat attacks by white supremacists or even those looking for attention is elevated. However, like in Charleston, the attack also brought the community together, with Briar Creek's pastor telling WCNC he had already forgiven the arsonist.