"Charmed" Star Rose McGowan Was Fired for Criticizing Hollywood Sexism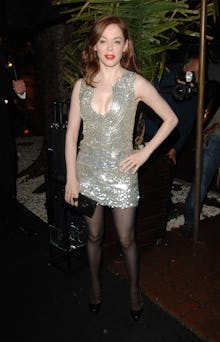 Sexism in Hollywood is bad enough, but it's even worse when people are fired for trying to end it.
Rose McGowan, famed for her roles in the TV series Charmed and the movie project Grindhouse, took on Hollywood sexism and was shortly after fired by her agents at Innovative Artists. 
On June 17, McGowan tweeted one of the casting notes that accompanied the script for Adam Sandler's latest film. It told female actresses to wear a "form-fitting tank that shows off cleavage (push-up bras encouraged)."
One week later, on Wednesday, McGowan posted another tweet saying she'd just been fired by her agents for being public about institutionalized sexism in Hollywood. She said she thought the note was unacceptable in and of itself, but what's worse is nobody stopped it from being distributed.
"It was just so dumb. I was offended by the stupidity more than anything," McGowan told Entertainment Weekly. "I was offended by the fact that it went through so many people's hands and nobody red-flagged it. This is normal to so many people. It was probably even a girl that had to type it up. It's institutionally okay."
McGowan is just one of many actresses who have faced systemic sexism from the minute she started in her profession. "When I did my first film, I was told by my agent that I would need to have long hair so men in this town would want to fuck me and hire me," she told Entertainment Weekly. "That was said to a 17-year-old."
She argues she'd been typecast because of looks more than a male counterpart would, because of the need for women to conform to the male gaze. 
"A big producer once told me that I always had to play the bad girl because I have dark hair and light skin. I was like, (sarcastically) 'Oh, that makes sense completely!'" she told Dazed in another interview. "It's called Hollywood. If the only thing that the public or anybody has ever heard from you is what a man has written for you, you're only seen in that slim, narrow window of what you're allowed to be seen as. It just doesn't suit me."
The backlash to her calling out entrenched sexism won't silence her. "I'm not really someone who does well being muzzled," she said in the same interview. On Thursday, McGowan maintained that sentiment, tweeting, "The awesome thing about being an artist? You can't be fired from your own mind. #FREEDOM"
A lonely road. Many industry players have been hesitant to support McGowan, only reinforcing her argument that people are silenced on the issue and instead are expected to accept it as the status quo. The Princess Diaries actress Heather Matarazzo is one of only a few celebrities to come to McGowan's defense publicly.  
Until more in the industry speak up, it will be hard to effect change in Hollywood. The vicious cycle will stay alive and well, as prominent figures in the industry are encouraged to stay silent while institutionalized sexism prevails, from objectifying women to paying them less. Matarazzo is right: The system will stay in place for only as long as people allow it. And taking a stand is long overdue.