Pharrell's New Song Will Be an Apple Music Exclusive — But You Shouldn't Listen To It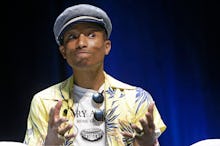 Pharrell announced that his new single, "Freedom," will be available exclusively on Apple Music when the service launches on June 30. Apple teased the song without much fanfare during their Worldwide Developers Conference event on June 8, when they announced Apple Music, and Pharrell played the song in its entirety on June 14 during his appearance at the PinkPop Festival in the Netherlands. His announcement confirms what many have speculated: Apple Music will offer artist exclusives. 
In the same way that Tidal offers exclusives, only people subscribed to Apple Music will be able to listen, because unlike Spotify, Apple Music has no free tier. But the problem is that exclusives encourage piracy, and just like that, the music industry could be set back a decade. The idea of a new Pharrell exclusive is exciting, but it has the potential to wreak havoc on the industry.
The idea behind Apple's exclusives is that they'll set the company apart from other streaming services like Spotify and Tidal. It's the same rationale behind Tidal's Beyoncé and Rihanna exclusives. Bloomberg reported back in April that Apple was in talks to offer exclusives from Florence and the Machine and "more than a dozen other artists."
But what's really concerning about exclusives potentially leading to piracy is that Apple doesn't seem to care a whole lot about artists in the first place. Only after their arm was twisted to a breaking point (thanks to Taylor Swift calling them out on Twitter) did the behemoth agree to pay musicians for the first three months of streaming. If Apple Music doesn't care about the little guy, the streaming service apparently has no incentive, beyond its own profits, to stop piracy.
By restricting access to music with exclusives, Apple basically gives listeners an ultimatum: Subscribe to Apple Music or pirate the song. But that's not totally surprising. It wouldn't be the first time Apple has bullied to get what they want.