A Former Baltimore Police Officer Tweeted Out All the Atrocities He Saw While on the Force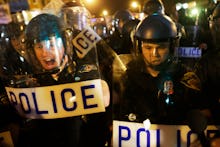 Retired Baltimore police Officer Michael Wood Jr. had a message for the Internet on Wednesday morning. 
And it only went downhill from there. 
After the blunt statement, which went viral, Wood went on to detail a shocking list of acts he witnessed while serving as a police officer at the Baltimore Police Department. They covered everything from illegal searches of thousands of individuals to defecating on suspect's beds and clothes to physical violence against innocent strangers to illegally charging the city for overtime. 
This wasn't the first time Wood has spoken out about his time on the force, and in the same Twitter feed expressed surprise that people had suddenly taken an interest in him. 
In a lengthy radio interview on the show Dogma Debate, Wood cited the behavior of Baltimore police as the contributing factor to recent unrest in Baltimore. "BPD started the Baltimore riots," he said. 
Wood, who left the force in 2014, is currently seeking a Ph.D. in Business Management Education from Capella University, according to his LinkedIn page.
While the allegations are unconfirmed and only come from Wood's personal Twitter account, they add new context into the minds of the officers who arrested Baltimore resident Freddie Gray on April 12. Video taken of the incident showed Gray forcibly being apprehended and placed into a police van. Gray's death in police custody a week later sparked days of protests and rioting in the city as residents demanded a full account of Gray's death. 
On May 1, Maryland State Attorney Marilyn J. Mosby announced that six officers would face charges in connection with Gray's death, which was ruled a homicide. An autopsy report obtained by the Baltimore Sun found Gray had died from a "high-energy" injury to his neck and spine.