Chance the Rapper Brought Out Kendrick Lamar at T.I.P. Music Festival for Chicago's Youth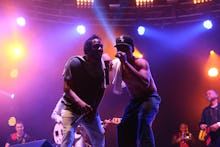 Chance the Rapper is for the children. He hosted the first annual Teens In Park festival (or T.I.P.) Wednesday night on Chicago's Northerly Island. It was free for anyone 13 to 24 years old. He wasn't actually on the bill, but he came out wearing a Staff shirt during Donnie Trumpet's set to perform some of their songs from their recent album Surf. And while onstage Chance the Rapper turned it up to 11 with a mind-blowing surprise — he brought out Kendrick Lamar. The kids absolutely lost it.
This isn't the first time Lamar and Chance suprised fans together. They came out during Earth, Wind and Fire's set at this year's Bonnaroo to kick some freestyles. At the T.I.P. festival the duo planned out more of an act. Before a sea of phones, Lamar and Chance ran through "Mad City," "Hol' Up" and the self-love anthem "i." The following snippets made it to Instagram and Twitter to help the rest of the world enjoy the moment accompanied by messages of gratitude. It really was about as amazing as free shows get.
Chance as a mentor to an entire city: Chance has been giving a tremendous amount to the local Chicago scene. Chance has also been hosting "Open Mike" concert series, which offers an open platform for Chicago's youth to develop and share their creative talents with their peers.
During one of these events in May, Chance brought out Kanye West and Vic Mensa, surprising kids with the show of a lifetime.
Chance named that series "Open Mike" after one of his mentors, Mike Hawkins, who passed away last December. In an interview with Complex, Chance said Hawkins' passing taught Chance that he need to step up and fill the void, to mentee the next generation. The "gratification of being donned a great rapper isn't as important as giving people the resources they need in order to make the statements they want to make," he said.
With the T.I.P. fest and his Open Mike series, Chance has been making that happen for the kids of Chicago. He's truly earned the "Outstanding Youth of the Year" award Chicago Mayor Rahm Emanuel presented him with in November.
Chance the Rapper also brought out Emanuel during the T.I.P. fest. But Emanuel's presence obviously does not get the people going the same way Lamar's does. Lamar has also been giving back to his own city of Compton, California, earning him his own Generational Icon award in May.
These two rappers are changing their cities with their music. These two, more than any other rappers, are showing the true potential of hip-hop to inspire, motivate and enlighten, which have been integral parts of the art form's goals from its outset. Hip-hop is alive and well in Lamar's and Chance the Rapper's able voices.
h/t Stereogum