Men, Here's What Your Obsessive Love of Socks Really Says About You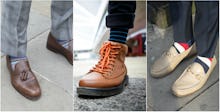 You've all seen it. The guy in the brown slacks, polished loafers, a collared shirt... and striped pink and blue socks that are so bold they're impossible to ignore.
When it comes to men getting dressed these days, socks are king.
For men, particularly snake person guys, socks have evolved from being a basic garment to cover bare feet from stiff shoes. They're the ultimate mirror into the hard-partying soul, apparently, the footwear version of the "business in the front, party in the back" mantra.
They may seem like insignificant accessories or a boring necessity, but socks have boomed into their own $2.8 billion industry, according to a 2014 report from market research firm NPD Group. Sarah Jean Charniak, marketing manager for Sock It to Me, told Mic that interest in men's socks has been brewing for a few years but has exploded over the last year. Some brands, like Happy Socks, have even become household names.
And according to a Mic survey conducted via Google form of over 40 guys, more than 85% of men said that socks are an important part of their wardrobe. 
So what do men's endearing love of socks say about them? A whole lot.
You're not afraid of a little self-expression. 
Socks are one of the few ways that men can show off their taste in style and give a hint of personality, both Charniak and Alicia Reese, design director of Sock It to Me, told Mic. The men surveyed by Mic repeatedly cited the ability to show off their taste and style as one of the main reasons they love socks so much. 
"When those pants roll up, your true self gets shown," one 26-year-old said.
When asked what they hoped their socks said about them, men weren't shy. One 27-year-old said he hoped his socks conveyed, "I'm up for anything, have style and personality, and I'm not afraid to surprise you with something crazy."
Another said he wanted his socks to convey one thing: "IDGAF."
That eagerness to express ourselves, Charniak said, is behind the growing fashion trend for young shoppers. Sock It to Me's ninja and "tacosaurus" patterns are just two examples of the newly adventurous styles, and Reese reports that their upcoming fall line includes unicorns and narwhals (inspired after a trending thread on Reddit a few years ago).
"People assume socks are just plain and boring," wrote one 22-year-old man. "So when someone actually has great socks on, it gives an unexpected impression and makes people go 'whoaaa, you're cool.'"
But you're doing it in a chill, low-key way.
Women have long had the upper hand when it comes to fashion choices, leaving men to experiment within a small range. "Women are a little bit like peacocks, [their] style changes so frequently, but the evolution of style for men moves so much more slowly," Reese said.
"There's definitely a broad appeal there in terms of how much you can express in terms of the [sock] design," added Charniak. "They're not going to get judged in the same way that they would if they wore crazy pants, ties or shirts."
Many of the men surveyed said they liked socks because they're a safe way to experiment with pattern, color and design within the traditional conventions of men's clothes, especially in the corporate sector where suits reign supreme — and when colorful, flamboyant clothes can still unfortunately be seen as a "gay" way of dressing.
As one 26-year old put it, "They're one of the exceedingly rare pieces of fashion that men are 'allowed' to be bold with, especially in corporate America." 
"You can go crazy! Especially if you're a straight bro. Load up the patterns and colors and feel free to show them off," wrote one 27-year-old guy. 
You appreciate the element of surprise.
Design aside, there's also the element of surprise when socks peek out from under pants at the ankle. It's unexpected in just the right kind of way, the men surveyed said.
Because of their limited visibility, socks can be a hidden little secret, like lingerie for men. "It is both a personal thing and a little surprise for everyone else when they sneak through," one 30-year-old said.
Or, as one twenty-something man told Mic, "Men wearing socks are kind of like women wearing sexy underwear. They're generally hidden, but they make you feel good, and on the rare occasion a stranger gets to see them, you want them to be impressed."
And other men do take notice — 76% of the men surveyed said they look to other men's socks for inspiration for what to wear. 
Of course they do. As one 27-year-old said, they are "like fireworks in a dull night sky."