Amy Poehler and Seth Meyers Reunited on 'Late Night' to Say "Really!?!" One More Time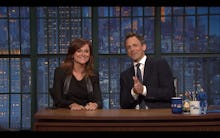 Back in their Saturday Night Live days, Amy Poehler and Seth Meyers had a segment on "Weekend Update" designed to call out bullshit. Titled "Really!?! with Seth and Amy," the piece showed the two hosts getting increasingly outraged about a particularly stupid statement.
The segment may be long-since retired, but on Monday, one Sports Illustrated writer tweeted something so stupid, it required a response on last night's episode of Late Night with Seth Meyers.
As noted by OutSports, writer Andy Benoit tweeted that "women's sports in general [are] not worth watching." He was replying to a tweet accusing him of not being interested in the FIFA Women's World Cup and doubled down on his sexism. Benoit may have deleted his tweets, but not quickly enough to avoid Meyers and Poehler's watchful eyes.
"Really, Andy Benoit? There's nothing in women's sports worth watching?" Poehler asked, an edge in her voice.
Their outrage wasn't just reserved for Benoit, either, but extended to the way American media is treating the women's World Cup as a whole. Why is it nearly impossible to find on TV, for instance?
"You'll play six hours of pre-Kentucky Derby footage, but you can't broadcast women's soccer?" Poehler asked. "You think people would rather watch someone talk about hats than watch some badass American bitches take down Colombia?"
Seeing Meyers and Poehler back together like this makes us miss their presence on "Weekend Update" even more. Current hosts Colin Jost and Michael Che are okay at best, and they're definitely not the types to call out and take down sexism like this. It's a key Saturday Night Live ingredient we're missing now.
Hopefully Poehler will drop back by Late Night soon for an encore. There will always be fresh bullshit to call out with a resounding "really!?!"
Watch the full clip below.