These Teens Are Responding to the Charleston Shooting In The Most Beautiful Way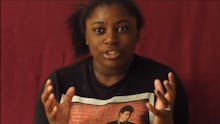 Dylann Roof committed an act of terrorism last week when he opened fire on the congregation at the Emanuel African Methodist Episcopal Church in Charleston, South Carolina. As would be expected, the nation largely reacted to this horrifying event with sadness, disgust and calls for action. Today, teens across the country are constructively channeling these reactions in the form of a virtual poetry slam called #MicCheckRacism.
After more than 26,000 members of their organization expressed their feelings in response to the shooting, DoSomething.org decided to encourage teens to explore their own experiences with racism through the art of poetry.
"Slam poetry has been used as an outlet for people to talk about serious, personal issues, in a creative and expressive way," Michaela Bethune, the organization's education campaign associate, explained to Mic. "Art has the power to break down complex, serious issues," she added, and sharing their experiences in this way allows members to "provide their peers with a compelling and digestible way to understand sensitive issues." 
Several teens are heeding this call, harnessing the power of social media to express their experiences and frustration.
"No one deserves to be judged based on their ethnicity or race," 17-year-old Kooki, who shared a poem titled "I Count..." on YouTube, told DoSomething.org. "It needs to be acknowledged that it's happening and that it causes pain." 
"Not even five [minutes] before I found Do Something, someone on the street yelled 'go back to Mexico' at me," 16-year-old Ana, who shared the poem "Borderlandia," told the organization. Growing up Mexican-American, she added, "I would always feel like I was being watched and followed because of who I was. At times I felt afraid. I realize now I'm not the only kid who has gone through this."
Plenty more are tweeting their poems under that hashtag #MicCheckRacism.
"We've already seen participants express relief in finding a creative way to share their oppressive experiences, and find solace in feeling less isolated by reading the poems and stories of others," Bethune told Mic. While all are invited to join this virtual poetry slam today, Bethune added, she hopes that all who do so come "with an open mind, and a willingness to learn about experiences other than their own."
Beyond this inspiring poetry slam, it seems that in the aftermath of this horrible incident, these are the exact tenets we would all do well to incorporate into our lives every day — and these courageous teens are leading by example.