This Latin Performer Canceled His TV Performance to Protest Donald Trump's Racism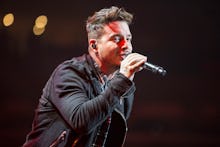 Before J Balvin heard Donald Trump's presidential announcement speech, he was gearing up for the opportunity of a lifetime.
The Latin performer was scheduled to perform at the Miss USA pageant in July, an event that drew 5.5 million viewers last year. But J Balvin threw those new potential fans away when he heard Trump's speech and found out the presidential longshot co-owns the pageant's parent company, the Miss Universe Organization. So Balvin decided to use his platform to take a stand. He canceled his performance and gave a powerful explanation via Billboard.
The parts of Trump's speech Balvin found most misguided and fateful were about Mexico.
"The U.S. has become a dumping ground for everybody else's problems," Trump said. "When Mexico sends its people, they're not sending their best. They're not sending you. They're sending people that have lots of problems, and they're bringing those problems with us. They're bringing drugs. They're bringing crime. They're rapists. And some, I assume, are good people."
But Balvin feels Trump's comments were much broader. "His comments weren't just about Mexicans, but about all Latins in general," he told Billboard.
"Mexico is a Latin powerhouse. And Mexicans, they're known as hard workers. Here in the U.S., not everybody wants to do those kinds of jobs. I've lived. I know what it feels like and what they go through and how families suffer. A comment like that is powerful."
This kind of activism is rare for J Balvin. "I think music is to have fun. It's for people to have a good time with. I'm no savior and I'm no Robin Hood," Balvin told Billboard. "But in this case, I feel totally comfortable and responsible with my decision."
Thankfully he hasn't been the only Latin artist to take a stand. Fher Olvera, leader of the group Maná, spoke out at one of their shows in Los Angeles.
"He said we were trash, he said that the people who came from Latin America and Mexico are rapists, thugs and drug dealers," Olvera said. "We feel pity for this incompetent man. I have never heard a speech as violent, or as filled with hatred — not since Hitler."
Other artists such as Colombian singer Fonseca took a softer tack, but was still very clear with his opinion of the presidential hopeful. "When someone says something so absurd, so senseless, as the saying goes: 'A foolish words, deaf ears,'" Fonseca said, according to the Latin Post. "And until then, 'ciao.'"
Mexican artist Dalton Javier Avalos Ramirez also recently posted pictures of a Trump piñata he will be selling, offering offended people the opportunity take a whack at the presidential hopeful.
Balvin's cancellation will hopefully translate this enmity into actual measurable action. The reason why the Miss Universe pageant chose Balvin is because Latin Americans run that competition. Miss USA comes from Mexican descent and Miss Universe is Colombian. These likely are the few "good people" Trump referred to as an afterthought in his speech. Perhaps more will boycott Trump's pageant as well. Then Trump may truly feel the consequence of his words in the only way he understands — his wallet.
h/t Billboard