Univision Shuts Down Donald Trump's Anti-Immigrant Speech in the Best Way Possible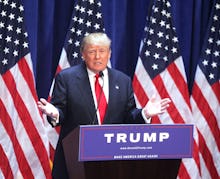 Donald Trump's presidential campaign announcement may have been entertaining to some, but Spanish speakers may have the last laugh after the real estate tycoon called for a wall along the U.S.-Mexico border to deter Mexican immigrants. 
"When Mexico sends its people, they are not sending their best. ... They are sending people that have lots of problems," he said June 16. "They are bringing those problems to us. They are bringing drugs and they are bringing crime and their rapists, and some are good people, and I speak to border guards and they tell us what we are getting."
Trump card: But Univision, the largest Spanish-language media company in the U.S, is not letting this one go. The network announced Thursday that it will end its partnership with the Miss Universe Organization, which Trump partially owns, in reaction to his statements. 
"At Univision, we see first-hand the work ethic, love for family, strong religious values and the important role Mexican immigrants and Mexican-Americans have had and will continue to have in building the future of our country," the network announced. "We will not be airing the Miss USA pageant on July 12th or working on any other projects tied to the Trump Organization."
A Day without a Mexican: Meanwhile, Univision anchor Jorge Ramos said Trump's statements were "full of ethnic prejudices and shows an enormous ignorance of Mexican immigrants in the United States." He also challenged Trump to run his businesses without a single Mexican or Latino employee. "His business would be paralyzed," he wrote in a Spanish-language blog post earlier this week. "A day without a Mexican stops the Trump empire." 
Furthermore, Latin performer J Balvin pulled out of the Miss USA broadcast because of Trump's comments, according to the Hollywood Reporter. The pageant will still air live on NBC. 
As Latin Times points out, earlier this year Univision grabbed the rights to broadcast the Miss Universe and Miss USA pageants, which had previously broadcasted by NBC-Universal's own Spanish-language network, Telemundo. 
Latinos and 2016: Still, whether one thinks about what America should do about its immigration population and the process for citizenship or resident status, Trump's words resonate with the 5.9 million Mexican immigrants residing in the U.S., as well as the broader Latino population, which is 14% of the country's voters.
Unlike Republican hopefuls like Jeb Bush who are actively courting the Latino vote, this voting group has traditionally leaned heavily toward Democratic presidential candidates. Despite Republicans of Latino descent like Ted Cruz and Marco Rubio in the running, though, statements like Trump's may deter the GOP from moving the needle when it comes to recruiting votes from this quickly growing voter demographic in 2016. 
Mic has reached out to the Miss Universe Organization for comment.