This Eye-Popping Magazine Is Combining Food and Sex for All the Right Reasons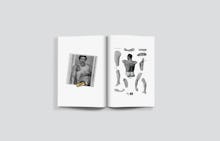 A nude blonde figure picks at his toes, a can of Spam spliced into the image to cover up his most salacious bits. A burly mustachioed man reclined shirtless with a jar of mayonnaise covering whatever is happening below the waist. Flip the page, and another guy appears to be tanning his own buns amid a tray of actual hot dogs.
No, Mouthfeel is definitely not your typical food magazine. Instead, it brings together sexy guys, recipes and hardcore gay culture, all in one gorgeous package the likes of which Martha Stewart would never put together. 
If it looks more diverse than any food content you see out there on newsstands or Instagram, that's exactly the point. 
A sexier look at food: For a magazine that sits at the intersection between gay, punk and food cultures, "we wanted to take the opposite end of the spectrum, from a design perspective," said founder Mac Malikowski in a phone interview with Mic.
That means something drastically different than indie food magazines like Kinfolk or Cereal and the picture-perfect, cookie-cutter imagery of Martha Stewart, Pinterest and Instagram — you know, those artfully styled #breakfast and #coffee posts with their "rustic chic" aesthetic.
"That look is very popular and pervasive, so I wanted the execution of Mouthfeel to have a gritty texture to it," said the former barista, who's put in time at restaurants like Bar Boulud, Momofuku and Blue Bottle Coffee and interned at the Marcus Samuelsson Group. 
While working for Marcus Samuelsson, he said, "I always wondered what it would be like to have a blog with content that had a sexier edge to it."
The result is a 36-page magazine with images from Malikowski's own personal vintage pornography collection plus vintage food imagery sourced by the New York-based ad agency, Mother. 
Think buff boy masturbating meets slice of oozing cherry pie.
Putting gay voices — and bodies — out there: It's not just the aesthetic that Malikowski wants to change up. "I'd actually read an interview with Ty-lor Boring in Butt Magazine many, many years earlier," Malikowski confessed. "It was small feature about gay people working in the restaurant industry. Honestly, that one small feature was a huge inspiration for Mouthfeel."
As he told Bedford and Bowery in May, "I decided to put food media through a queer lens."
That includes more representation for queer individuals, who are more underrepresented in the industry than assumed. A 2012 feature from the Advocate reported on the industry's macho, testosterone-fueled culture, one that can leave some LGBT chefs and cooks feeling stifled or even bullied. 
While the magazine brings gay members of the food industry to the fore, Malikowski said his objective isn't overtly political. Despite serving up a memorable quote to the Cut in May ("I wasn't even out when I was washing dishes at Bar Boulud, but I learned how to say the word faggot in, like, six different languages. ... I definitely feel like at the core of the food industry there's a lot of homophobia.") Malikowski tells Mic the magazine isn't meant to be a critique so much as a celebration.
"Since [that quote got out], people have been sort of painting me as an activist, which is fine because I am an advocate of gay rights in all circumstances, including restaurant employment," he said. 
"But the publication is more a celebration of the things I love about the restaurant industry and definitely not about the things I don't love."