Donald Trump Doubles Down on Racist Comments in Fox News Interview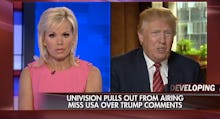 In an appearance with Fox News' Gretchen Carlson Thursday night, 2016 Republican presidential candidate Donald Trump stood by controversial remarks he had made about Mexicans, including that they were rapists. 
"Do you think they're sending their best and their finest over here?" he asked Carlson during the interview. "Of course I'm standing by the statement, everybody knows it's true."
Trump made his original comments during his campaign announcement speech June 16, where he said, "[Mexico is] sending people that have lots of problems, and they are bringing those problems to us. They are bringing drugs and bringing crime. They're rapists."  
The interview largely focused on Spanish-language television station Univisión's recent decision to drop its broadcast of the Miss USA pageant, which Trump owns. In a statement released Wednesday, the broadcaster fired back at the candidate's claims saying:
"At Univision, we see first-hand the work ethic, love for family, strong religious values and the important role Mexican immigrants and Mexican-Americans have had and will continue to have in building the future of our country. We will not be airing the Miss USA pageant on July 12th or working on any other projects tied to the Trump Organization." 
Trump said he would never be silenced for speaking the truth and clarified it was never his intention to say all Mexicans were rapists. The real estate magnate also told Carlson that Univisión's plans were in fact illegal, and they knew it. Trump plans to sue the station for breach of contract if they don't back down. 
The interview and the real consequences Trump's comments have generated are just another reminder that — for the moment — he is a leading contender to become president of the United States, the most powerful man on Earth. A Fox News poll showed Trump at number two in the pack, trailing only Jeb Bush in a survey of likely Republican primary voters nationally and in New Hampshire.
Trump's blunt assessment of Mexicans has already sparked controversy among younger Americans, increasingly more diverse than previous generations. Earlier this week, a Facebook post by 28-year-old Mexican-American Adriana Almanza went viral after she denounced Trump's words by passionately defending her father.
"My dad has worked 5 to 6 days a week since I was a child and I've never heard him complain about it one time. He doesn't drink. He doesn't use drugs. He is certainly not a criminal, rapist or drug trafficker, as your speech suggested," she wrote. "If my dad is any representation of the type of people Mexico 'sends,' there is no doubt in my mind this country is getting the best. The problem is that you and I have a different definition of 'the best.'" As of Friday morning, the post had almost 300,000 likes and more than 135,000 shares.  
Watch Trump's full remarks here.