A South Carolina Police Officer Was Fired for Being Caught with Confederate Flag Boxers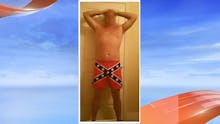 Sgt. Shannon Dildine, a police officer in North Charleston, South Carolina, posted a picture of himself to Facebook wearing nothing but Confederate flag underwear. The photo quickly started to circulate on social media and ultimately led to Dildine receiving a termination letter on Wednesday.
Police Chief Eddie Driggers sent Dildine a letter detailing why the officer's actions demanded punitive measures, saying Dildine's actions inhibited the "ability to improve trust and instill confidence when working with our citizens," a local ABC station reported. 
"On Tuesday ... the city learned that you posted on Facebook a photograph in which you were wearing only a pair of boxer shorts emblazoned with the image of the Confederate flag," wrote Driggers, according to the Post and Courier. "Your posting in this manner led to you being publicly identified as a North Charleston Police officer and associated both you and the department with an image that symbolizes hate and oppression to a significant portion of the citizens we are sworn to serve."
As part of Driggers' justification for firing Dildine, the police chief noted any future arrests the officer made involving minorities were potentially compromised, as lawyers representing the alleged criminals could use the photo to argue the arrests were racially motivated. However, in accordance with police department procedures, Dildine can appeal the termination within 10 days of receiving the letter.
A fellow officer in the North Charleston, South Carolina, police force was also responsible for the shooting death of Walter Scott, a black man, in early April.
The region is particularly sensitive to race relations of late, after the Emanuel African Methodist Episcopal Church massacre committed by a white male on June 17 in Charleston, which left nine black people dead. This tragedy, in conjunction with deeply troubled racial relations between white police officers and black citizens in cities across the nation, has necessitated extra efforts to purge police of institutionalized racism.