Same-Sex Couples Are Getting Married Immediately After SCOTUS' Historic Decision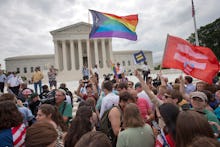 Immediately after the Supreme Court's historic decision to legalize same-sex marriage in the United States on Friday, same-sex couples celebrated in the most appropriate way possible: They got married.  
Some of these couples took to Twitter to share pictures of their ceremonies across the country. For some, their celebration was compounded by being the first same-sex couple to marry in their county, city or state. 
The long-awaited victory for LGBT rights activists came with a 5-4 majority on the Obergefell v. Hodges case to determine if same-sex marriage is a constitutional right. Justice Anthony Kennedy delivered the swing vote and majority opinion.
"Their plea is that they do respect it, respect it so deeply that they seek to find its fulfillment for themselves," Kennedy wrote.
The past two decades have seen a growing momentum for support of same-sex marriage. Fifty-seven percent of Americans are now in favor of it, according to a Pew Research Center poll. 
Congratulations, America.