The Genius Way Young People Are Making a Living as Instagram Entrepreneurs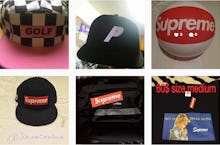 When the apparel brand Supreme started selling its new summer collaboration on Thursday in collaboration with the skate magazine Thrasher, stock sold out and retail lines were around the block. If you were hoping to buy a shirt, you were out of luck — unless, of course, you were on Instagram.
By the end of the day, the hashtags #supremeforsale and #supreme4sale collectively racked up nearly a million listings for 'grammers hawking and trading brand-new clothing.
Welcome to the Wild West of retail. Instagram resellers rely on an unregulated market. With millions of listings, it's virtually impossible to count how much money is exchanging hands on the super-popular photo app, but some sellers can make enough to support their families. 
And for buyers, it's a paradise. Search for any designer or major brand on Instagram, and you'll find a hashtag that connects fans with eager buyers and sellers.
On the most popular shopping hashtags, like #instashop and #shopmycloset, you'll find both individuals who are trying to offload unwanted items, and sophisticated reseller operations using Instagram as a secondary channel to their listings on Facebook or a Web store.
Andre, who runs a reselling business called @solestreetsneakerco almost entirely on Instagram, says that he makes enough to support his five children.
"I use Instagram and a Web shop, but Instagram works better because it attracts more traffic," Cameron, who runs an Instagram account called @kicks_n_preme, told Mic. Cameron started selling his wares on Instagram about a year ago, when the market was smaller and the hashtags were much less crowded.
"It's a lot more competitive today — there are so many resellers that the market gets saturated very quickly. A super-hyped item from two weeks ago can suddenly drop in value because of people buying and flipping them so fast."
Andre, who runs a reselling business called @solestreetsneakerco almost entirely on Instagram, says that he makes enough to support his five children just from peddling clothing on the app.
"The market fluctuates, and there's never a guaranteed income, so it's hard to plan," Andre told Mic. "But as long as you can get the right products, and enough of it, it pays very well."
In the U.S., sellers give out email addresses, Kik account names, websites and even personal phone numbers. Overseas, its more typical to give WeChat and WhatsApp account names. Then, according to the sellers we spoke to, a price is worked out via direct messages, texts or phone calls.
Once the buyer and seller have agreed on a price, most sellers in the U.S. use a payment service like Venmo or, better yet, PayPal, which allows for verified accounts and robust receipts.
Why Instagram is a dream come true for sellers: Instagram is the fastest-rising social network. It's also the most popular social network for young people, second only to Facebook. As of March, the app boasted an estimated 77.6 million people in the U.S. alone.
Instagram's visual nature also makes it a great online marketplace. To list something on Instagram requires a half-decent picture, a caption and the right hashtags. This is a contrast from eBay, which requires users to make an account, set up an listing, pay a transaction cost, set a time limit and ship something out every time the bidder hits your sale price. Instagram's relative simplicity is a compelling reason to use its platform instead. Another big incentive? Young people already have accounts on Instagram.
Additionally, by following the right sellers, users can create a curated feed of clothing by bloggers and shops that fit a specific style and even personal size.
As Amanda Miska, an Etsy vintage shop owner who fell down the Instagram shopping hole herself last year, wrote for xoJane:
I eventually found myself following a few closets of people who wore the same sizes as me, just to get an idea of what people were selling. The items were cute, and for the most part, the prices were really reasonable. I started to see online vintage shops like ours using Instagram as a forum for selling — and I didn't blame them, as our own vintage sales had fallen tremendously since the oversaturation of the Etsy vintage market.
But hands down, the best feature for people trying to sell their swag on Instagram is that Instagram doesn't take a cut. Unlike other social networks, Instagram has no built-in commerce feature, though one is on the way. So for now, if you want to sell something on Instagram, you get to keep every cent.
Resale on Instagram is also a huge business overseas. There are hundreds of thousands of listings across #instashopid (Indonesia), #instashopsn (Singapore), #instashopph (Philippines) and several Malaysian hashtags. #Dressmurah, or "dress cheap" in Indonesian, has millions of listings, with new listings going up every few seconds.
The risks of Instagram reselling: Law enforcement isn't regulating any of the action on Instagram. It's an extra-legal market; all trades are under the radar, and nothing is taxed — which makes it easy for some bad behavior, like fraudulent sales, to go unpunished. 
"I take scammers and fuckboys and ... put 'em on blast, and tell people to stay away from those accounts."
Each seller we spoke with agreed that Instagram is a sloppy and unregulated market. According to Cameron, scammers, "fuckboys" and other shady purveyors are active on the platform, posting bogus listings and taking money without sending anything out. To distinguish themselves, many legitimate users rely on referrals and verified PayPal accounts. One seller uses the same Nintendo figurine in every photo to prove that everything is coming from his stock.
But Cameron goes a step further. He and reputable sellers like him get constant notifications about scammers. So he decided to make an account called @the_fuckboy_list to warn everyone. "I take scammers and fuckboys and put them on that list," Cameron told Mic. "I just put 'em on blast, and tell people to stay away from those accounts."
Even so, Andre says, scammers aren't a big enough problem to ruin the market, which he calls "huge, huge, huge." As anybody who's ever waited in line for a pair of Jordans knows well, people will go wherever they can get what they want as fast as they can, as easy as they can.