5 Women Share The Moment They Decided to Pursue Engineering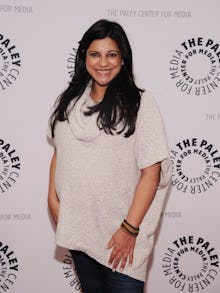 The dominant conversation about women in science, technology, engineering and math is an undeniably depressing one. Not only are women currently underrepresented in and discriminated against in these fields, but rates of girls choosing to enter STEM is on the decline, too. While raising awareness about this troubling reality is certainly necessary, framing it as a lost cause does little to actually convince girls and women to pursue these careers.
A crucial element missing from this conversation, therefore, is visibility about the positive experiences that plenty of female scientists, engineers and mathematicians do, in fact, have. These professionals didn't just enter their fields to contribute to a better overall statistic of representation — they did so for personal reasons, and they are reaping the benefits.
Here are just a few women's reasons for going into STEM — and their advice for women looking to do the same.
Patricia Valoy: civil engineer 
When Valoy was a teen, she won an all-expense paid trip to Germany through a high school program, she told Mic. While there, she was introduced to engineering by her host parents, who worked in the field.
"I had read about engineering and knew that it would be a good fit for my interests and skills, but it wasn't until then that I truly understood what it meant to be an engineer," she said, adding that after a tour of her host parents' workplace, she became "immediately hooked."
"Engineering is all about problem-solving and collaboration, and those are skills that are valuable in and out of the workplace," she explained. She also loves that her job "isn't static" — she may switch between working on one yearlong project and several smaller projects — and the satisfaction of producing tangible results.
"In the end, something gets designed and built, and I can't really explain how gratifying that is," she told Mic. "We get to see our vision come to fruition, and that is a magical feeling."
"My advice to young women considering a STEM field is to be bold and brave," she said. "There will be many times when you feel like things are too difficult and that maybe you don't belong, but there is nothing more gratifying than proving people wrong. Even if you go home and cry (like I have done on many occasions!) get back to work and show them that the old boys club is going down."
Stephanie Reeves: engineering adviser
Reeves said she didn't discover her interest in STEM until she left her hometown, where few people worked in those fields. 
"My 'light bulb' moment came during a class trip to the Greek Isles to study the role of science and engineering behind the beautiful architectural structures," she told Mic. "After that trip, I knew I wanted to study something where I could make a difference."
Reeves loved math growing up because every problem had "a definitive, indisputable answer," and engineering similarly allows her to creatively solve problems and find solutions, she told Mic.
The key to succeeding in this path, she said, has been not only finding female mentors — whose support does much to combat the biases she and other women face in the field because of their gender — but also, importantly, sponsors "who can open doors for you and go to bat for your career growth." This combination, she concluded, is "critical to helping young women not only pursue a career in STEM, but keeping us here, continuing to challenge us, and helping us reach our full potential."
Alice Brooks: Roominate founder
When she was 8 years old, Alice Brooks, like so many other girls that age, asked her father for a Barbie for Christmas. Instead, she told Refinery 29, he got her a saw. Playing with tools like this as a young child, feeling empowered to build her own toys, inspired her to go into engineering, she added. It even inspired her to eventually become the co-founder and CEO of Roominate — a company that produces tech-based toys that encourage girls to explore "hands-on, open-ended creativity" including "building and circuits," Brooks told Refinery29.
"I saw mechanical engineering as a way to take my love for making and being able to design real products," Brooks said of her decision to go to the Massachusetts Institute of Technology to study mechanical engineering. The confidence she gained from these technical abilities, she explained, has been personally crucial and is a value she hopes to instill in countless other girls through Roominate. 
"Being able to take a new problem and figure out a solution; that was really important for me," she told Refinery 29. "Building up that confidence as early as possible, where girls don't see this as a 'boy's thing' ... By exposing girls to those things and leveling the playing field, who knows what they will go after in the future?"
Reshma Saujani: Girls Who Code founder
Saujani's passion for STEM was hardly a lifelong one. The founder of Girls Who Code was a litigator, corporate lawyer, candidate for public office in New York City in 2013 before she found her calling advocating for women in STEM. It was on the campaign trail, in fact, that she realized tech's gender gap and felt compelled to change it, she told Ms. JD in an interview.
"I have been very passionate about women's issues, and I saw this huge opportunity and all this job growth in the technology sector — but the majority of the female workforce wasn't going into them," Saujani told Ms. JD. "As someone who went to the Kennedy School and really focuses on economic development, it just didn't make sense to me. I really wanted to understand the disconnect, and that is why I started Girls Who Code."
Saujani proves that one doesn't necessarily have to have pursued math or science-based degrees to enter a STEM-related career or advocate for other women to do so. Her experience as a lawyer, she told Ms. JD., has "influenced the way I problem-solve and think about issues" in her work with Girls Who Code. "Being a lawyer isn't just about being in a courtroom or a boardroom," she added. "There are many different career paths that are going to be open to you."
Naoko Yamazaki: astronaut
"When I was a young girl, I liked to watch the stars in the sky and in planetariums," Japanese astronaut Naoko Yamazaki told UNESCO in a video message. "Also, science fiction movies like Star Wars inspired me a lot," she said, adding that she ultimately pursued engineering because she "wanted to build a spaceship." 
But while 40-50% of the students at her all-girls high school went into STEM fields, when she began studying at the University of Tokyo she was "very surprised to see very few — less than 5% — women in [the] engineering field," she told UNESCO. When she studied abroad in the United States, however, and was exposed to other women of all ages working in STEM, she was inspired to continue on her path and became an engineer then, eventually, an astronaut. 
During her 11 years of training, female colleagues encouraged her to persevere, which she said made all the difference. Pursuing her career, she said, has been "challenging ... but not impossible."
Ayanna Alexander-Street: biological sciences professor
When Lehman College professor Ayanna Alexander-Street was a young girl, she dreamed of becoming the Los Angeles Lakers' team physician, she told Mic. She was told that "girls don't do that job," she said, but she insisted on pursuing the general field anyway. Eventually, Alexander-Street found her calling thanks to her microsurgery doctoral program's teaching requirement.
Though she's faced plenty of obstacles to become a professor of biological sciences — including gender-based microaggression, age bias, stress associated with graduate school and dissertation work and the academic hiring and tenure process — shaping the minds of future generations of scientists makes it all worth it, she told Mic.
"When my research students make a breakthrough and become confident in their abilities as scientists, that is why I love it," she said. Scientific research, she added, "is a fun, exciting, stimulating, area. You can think up any question in your mind, and create a way to answer it!"