This Fox News Anchor Thinks SCOTUS' Ruling Means Three People Can Marry Each Other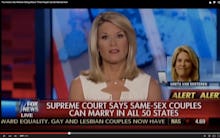 On Friday, the Supreme Court issued its historic ruling that same-sex marriage is, in fact, a constitutional right, legalizing it across the United States. While many American were celebrating on the streets and online, Fox News was there, dependable as ever, to provide the counterargument. 
In a segment hosted by Martha MacCullum shortly after the news broke, the anchor asked Fox pundit Greta Van Susteren if the ruling meant three people could now enter into a marriage together. 
"So, suppose three people say, 'We want to be a marriage. We're three people and we love each other and we want to be marriage.' What's to prevent that under this?" MacCullum asked.
While it may be true that new legal rulings do open up the possibility for further legal research and questions, MacCullum shouldn't be concerned. No, the 5-4 ruling in Obergefell v. Hodges does not mean three people can now get married. Same-sex marriage is not the same thing as polygamy.
In keeping with Fox News' concerns over bigamy and the anarchy that would inevitably ensue, Justice Antonin Scalia wrote a contempt-filled dissent to his fellow justices' ruling. In one of many golden footnotes, Scalia wrote, "The Supreme Court of the United States has descended from the disciplined legal reasoning of John Marshall and Joseph Story to the mystical aphorisms of the fortune cookie."
Same-sex marriage has remained a divisive issue but, as LGBT rights have gained momentum, majority public opinion now favors it. A June 8 Pew Research poll revealed 57% of Americans support marriage equality. 
Those on the other side, however, are coming out in passionate opposition. "Hubris is sometimes defined as o'erweening pride; and pride, we know, goeth before a fall," Scalia wrote. The same could be said for bigotry. And, so far, those filled with LGBT pride seem to be standing tall rather than falling.