Anti-Gay County Clerks Have Already Begun Denying Marriage Licenses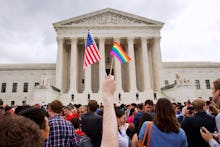 It begins.
Hours after the Supreme Court's decision Friday mandating marriage equality throughout the United States, conservative county clerks have already launched the first rounds of opposition.
Leading the pack was Denton County, Texas, clerk Juli Luke. Those seeking marriage licenses from Luke on Friday were instead greeted by a sign taped on the door to her office: 
"I took an oath of office to uphold the laws of Texas and the United States. It appears this decision now places our great state in a position where our state law contradicts federal law. Based on this new conflict, I will be deferring to my legal counsel, District Attorney Paul Johnson, for guidance." 
Calls to Luke and District Attorney Paul Johnson were not returned. 
Of course, as the high court's name suggests, there is actually no question over whether state or federal law is supreme. Luke's stalling tactic is actually a well-worn delay that has failed many times in the past.
In 2014, when a Supreme Court non-decision allowed marriage equality to move forward in five new states, Alabama Chief Justice Roy Moore led a charge to keep marriage equality out of his state on the very same grounds. Before marriages began, Moore sent a letter to state probate judges urging them to ignore federal law and continue to enforce the state's marriage prohibitions. A majority of judges took him up on it for a while, before ultimately abandoning the idea as legally untenable. 
With marriage now settled, opponents are widely expected to shift the debate to focus on the issue of "religious freedom." The tactic has already been in display by recent efforts to pass so-called Religious Freedom Restoration Acts in states like Indiana and Michigan. Other anti-LGBT activists have tried more dramatic approaches. Earlier this month Texas pastor Rick Scarborough promised to literally set himself on fire if the court ruled in favor of marriage equality. 
It was unclear Friday, if Scarborough had carried out his threat. Calls to his organization, Vision America, were not answered.