Obama Just Delivered a Heartbreaking Eulogy for the Charleston Shooting Church Leader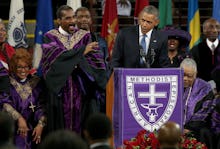 Nine days after a white gunman shot and killed nine black parishioners during an evening Bible study session at the Emanuel African Methodist Episcopal Church in Charleston, South Carolina, President Barack Obama on Friday eulogized Rev. Clementa Pinckney, celebrating "a man of God who lived by faith — a man who believed in things not seen."
The son of religious and civil rights leaders, Pinckney "wore a heavy burden of expectation," Obama said, but despite those early challenges, "Rev. Pinckney embodied a politics that was neither mean nor small. He conducted himself quietly and kindly and diligently."
Speaking to — and leading in song — more than 5,500 mourners gathered inside the College of Charleston's TD Arena, Obama used the podium, which was lined with a purple Emanuel AME banner, to deliver a stirring and, at times, stinging message about the powerful role of the church in black life and the good grace of the victims' families, a number of whom lined up to forgive the alleged killer during a court hearing last week.  
"The church is and always has been the center of African-American life, a place to call our own in a too-often hostile world — a sanctuary from so many hardships," Obama said. 
The murders of Pinckney and his flock, he continued, were "not random," but intended as "a means of control, a way to terrorize and oppress." 
The alleged killer, Obama said, was "blinded by hatred" and "could not see the grace surrounding Rev. Pinckney and that Bible study group. Blinded by hatred, he failed to comprehend what Rev. Pinckney so well understood — the power of God's grace."
The president also singled out for praise South Carolina's Republican Gov. Nikki Haley, who on Monday announced she would call on a special session of the state legislature to take down the Confederate war flag, which has flown over parts of the capitol grounds in Columbia for more than 50 years. 
"For too long, we were blind to the pain that the Confederate flag stirred in too many of our citizens," Obama said to hearty applause. The decision, he argued, was not an "insult to the valor of Confederate soldiers," but a necessary statement that, 150 years after the Civil War ended, "the cause for which they fought, the cause of slavery, was wrong."
"By taking down that flag," the president said, "we express God's grace."
Democratic presidential candidate Hillary Clinton was in the arena for the eulogy, as was House Speaker John Boehner (R-Ohio), who flew for the first time with Obama on Air Force One from Andrews Air Force Base just outside Washington, D.C.
As he finished his remarks, Obama led the choir in a historic Christian hymn, written in the late 18th century by a former slave trader and clergyman named John Newton. 
"Amazing grace, how sweet the sound, that saved a wretch like me," the president began, as the church leaders seated behind him rose and the crowd joined in, singing, "I once was lost, but now am found, was blind, but now I see."