Watch YouTube's Beautiful Tribute to Friday's Historic Marriage Equality Decision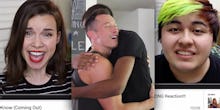 On the heels of Friday's groundbreaking and history-making Supreme Court decision, in which same-sex marriage was declared legal nationwide, a large swath of the tech community spoke out in support of the decision. Apple, Uber, Facebook, Google and others put forth their own messages of love, hailing the ruling as a step forward for the country.
But the best of them all may be YouTube, which released this tear-jerker of a video — showing a number of coming-out clips, political speeches for marriage equality and scenes from same-sex weddings — on Friday afternoon. The video, which is part of YouTube's #ProudToLove campaign, celebrates both Pride Month and Friday's historic victory.
The montage opens with a clip from the coming out video of Ingrid Nilsen, the YouTube beauty tutorial star who announced her sexuality in a June 9 vlog post. It then segues to coming-out videos and expressions of identity from other notable YouTubers and public figures, including Troye Sivan, Janet Mock, Ellen DeGeneres, Ellen Page and Joey Graceffa.
Each part captures the overwhelming bravery and emotion that such moments require and produce, and it's difficult not to tear up while watching them one after another. "We're proud to support those who inspire change and move us forward," the video declares.
The celebratory video also features footage from rallies and activists that have been hosted on the platform throughout the years. It concludes with a series of shots from same-sex proposals and weddings — occasions that, thanks to the Supreme Court's decision, are now available across the country to members of the LGBT community.
On a day in which wonderful tributes and celebrations aren't hard to come by, these clips remind us that, beyond the policy and the legality of the issue, same-sex marriage is a deeply personal matter, and has a profound effect on the lives of everyday people.