Watch President Obama Sing "Amazing Grace" at Reverend Pinckney's Funeral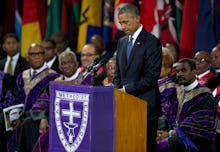 President Barack Obama delivered a stirring eulogy Friday at the funeral for the Rev. Clementa Pinckney, a Democratic member of the South Carolina Senate. 
Pinckney and eight others were gunned down at a massacre at the Emanuel African Methodist Episcopal Church June 17, after a Bible study group he was hosting came under attack by a white supremacist.
In an address that was repeatedly interrupted by applause, the president saved his best for last, ending his oration with a rendition of the iconic anthem "Amazing Grace."
During the roughly two-minute rendition, Twitter unsurprisingly met the president's singing with sheer excitement.
Well done, Mr. President.