Watch a NC Educator Risk Jail Time by Tearing Down the Statehouse's Confederate Flag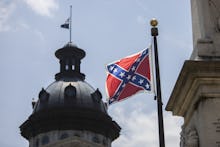 An activist has been arrested in South Carolina after scaling the flagpole at the Statehouse in Columbia, removing the Confederate battle flag flying there before being captured by Capitol police.
Rashad Robinson, executive director of activist group ColorOfChange.org, told the Root that the activist was a North Carolina educator named Bree Newsome and added, "This flag sends a horrible message about what our country was and a reminder of what we can still be. The flag is down now, we should keep it down, and any charges against these activists should be dropped immediately."
Newsome was taken into custody at 6:30 a.m., as well as an unidentified man who accompanied her, reported the Root. But she didn't appear to be all that broken up about it:
As another Twitter user pointed out, her efforts happen to align with the recent words of the president of the United States:
Newsome's efforts have inspired the hashtags #KeepItDown and #FreeBree, both of which were trending on Twitter as of Saturday morning.
The Confederate flag has since been replaced. While South Carolina Gov. Nikki Haley and a bevy of state legislators recently called for the flag to be permanently removed from the Statehouse grounds in the aftermath of the Charleston shooting, doing so will require a two-thirds vote in the state House and Senate that has yet to be formally conducted. 
Watch the video below:
h/t the Root