One Powerful Cartoon Perfectly Sums up This Incredible Week in American History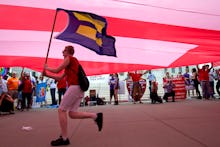 On Monday morning, millions of Americans would have found it considerably easier to purchase and fly a Confederate battle flag than marry the man or woman they love. 
Five days later, after South Carolina Gov. Nikki Haley called for the "stars and bars" to be lowered from its cruel perch over the state capitol and leading retailers removed Confederate merchandise from their shelves, the Supreme Court struck its own blow for historic progress. 
The Old South's "heritage" of hate is slowly receding — where former Alabama Gov. George Wallace once promised "segregation forever," the Confederate flag is now absent — while the flowing rainbow banners that have for decades colored the spirit of the gay rights movement are in the ascent. This cartoon, shared by the Southern Poverty Law Center on Friday, tells the tale better than anything else we've seen:
Five panels. Five days in American history we'll be thinking about, analyzing and, in many cases, celebrating for years to come.