SpaceX Rocket Explodes Just Minutes After Takeoff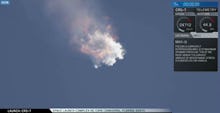 SpaceX's unmanned CRS-7 resupply mission has ended in catastrophe.
NBC reports that SpaceX's Falcon 9 rocket, which carried a Dragon spacecraft delivering more than two and a half tons of cargo to the International Space Station under NASA contract, exploded "just minutes" after takeoff Sunday:
In addition to carrying supplies to the ISS "ranging from a new docking adapter for accommodating future U.S.-built spaceships to a virtual-reality headset for the station's crew," NBC reports that the mission was intended to be SpaceX's third attempt to re-land a rocket on an ocean-based recovery platform.
In a terse statement on Twitter, SpaceX said the vehicle had experienced an "anomaly on ascent" and said more details would follow.
NASA astronaut Scott Kelly apparently witnessed everything from his perch on the space station.
The loss of the rocket will be another setback for SpaceX and company founder Elon Musk, who according to NBC, until Sunday had successfully completed all space station supply missions assigned to the company.