As the U.S. Celebrates Equality, Here's the Shocking Response Turkish Police Had to Pride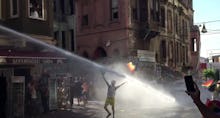 A planned gay pride celebration in Istanbul was set upon by police forces and dispersed Sunday.
According to a Facebook post by LGBTINewsInTurkey.com, the 13th LGBTI Pride Parade near Taksim has "suddenly been banned by the Governorate using the month of Ramadan as the reasoning without any announcement." Police officers began dispersing the assembled crowd with "pepper spray, plastic bullets and water cannon."
Video clips posted to Twitter from the scene, verified by Vocativ using "technology that monitors geo-tagged social media post" appears to show police vehicles deploying water cannons as well as officers firing less-lethal small arms against parade participants.
Watch the entire video below:
Another video appeared to show the same police vehicle blasting a man waving a rainbow flag, knocking him backward.
Other photos allegedly display members of the parade being arrested by Turkish police.
Hurriyet Daily News reported the parade was set upon by police before it had "even started, as celebrants were ready with rainbow-colored flags and placards to march along Istanbul's central Istiklal Avenue." The paper reported that after the inaugural rally in 2003 drew 30 people, participation in the annual pride parade has swelled to the tens of thousands in recent years.
However, Guide Istanbul magazine reported that following the dispersal, parade participants regrouped on another street.
This is a breaking news story and will be updated when more information becomes available.