16 Photos of New York City's Historic 2015 Pride Parade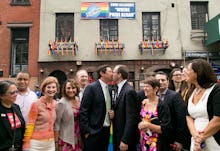 Hundreds of thousands of LGBT people and their supporters flooded the streets of the nation's cities Sunday to celebrate both their identities and a recent Supreme Court ruling legalizing same-sex marriages across the country.
New York City Pride march organizers told local station WPIX they expected attendance to reach as many as 2 million marchers and spectators, who took off starting at around noon and are expected to continue festivities throughout the day. Here are more than a dozen from the march:  
1. This year's Grand Marshals: Sir Ian McKellen, Sir Derek Jacobi and Ugandan activist Kasha Jacqueline Nabagesera.
2. The cast of the Netflix series Orange Is the New Black took part.
3. New York Gov. Andrew Cuomo was there too, even officiating some marriages.
4. Feminist blogger Feminista Jones was there.
5. The NYC Gay Men's Chorus sang some songs.
6. This unicorn stole the moment.
7. Mayor Bill de Blasio took part.
8. Rainbows were everywhere.
9. City officials even proposed. 
10. There were some counter-protesters, but they got an eyeful.
11. All in all ...
12. ... It was a pretty successful pride parade.
.