14 Recent Pop Songs That Are Basically the Same Song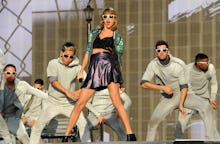 Pop music runs on simplicity.
The simpler the pop song, the more approachable and familiar it feels. The more familiar a piece of music, the more likely listeners will enjoy it. This trend is not new to the music industry. It's called the "mere exposure effect." So, what's the best way to ensure a song will hit? Follow established formulas and make it sound like songs that have come before. 
According to research out of the Spanish National Research Council, pop music has been getting less diverse — in terms of note combinations and timbres — since 1955. Now, with the music industry making less money selling recorded music, it's more likely to push the singles it knows will make an impact. 
This has caused the sound of today's chart-topping pop to be more homogenized than a gallon of milk. Anyone who doubts that should just listen to following hits from Billboard's Hot 100 — paired up according to similar sounds. It doesn't have to be this way. But if we don't demand fresh sounds, this is what we'll keep getting.
Fifth Harmony's "Worth It" and Jason Derulo's "Talk Dirty"
The hooks for "Worth It" and "Talk Dirty" are essentially identical, featuring wonky horns and a simple repeating one-line phrase. They have the same hand clap pre-chorus buildup, and both feature guest appearances from mediocre rappers. The main difference? "Worth It" puts it rap verse first, while Derulo tacks his at the end — a stunning reversal.
Fifth Harmony is trying to bring the girl band back to pop. It's an admirable mission, as Kate Beaudoin has argued for Mic, since girl groups "have always been an agent of liberation." Yet, while Fifth Harmony has been steadily climbing the charts for the past 18 weeks, they've done so by relying heavily on 2014 pop tropes. 
Britney Spears and Iggy Azalea's "Pretty Girls" and Iggy Azalea's "Fancy"
Britney Spears and Iggy Azalea made such a blatant push to try and win the song of the summer, it was almost embarrassing. They made a near-exact copy of last year's song of the summer, Azalea's "Fancy," utilizing the same '80s-style synths, finger snaps and rhythmic "hey, hey, hey" shouts on the upbeats — a sound coined by DJ Mustard. Natalie La Rose's "Somebody" (No. 37 on the charts as of Friday) and Jidenna's "Classic Man" (50 and rising) also rely heavily on these sounds. Mustard on every beat, everywhere.
Taylor Swift's "Shake It Off" and Avril Lavigne's "The Best Damn Thing"
For 1989's smash single, Taylor Swift drew inspiration from many sources. The beat and ra-ra attitude sound is nearly identical to Avril Lavigne's "The Best Damn Thing." Gwen Stefani's "Hollaback Girl," HAIM's "The Wire" and the Jonas Brothers' "Pom Poms" also laid the groundwork for "Shake It Off" to come through and absolutely clean up.
Taylor Swift's "Style" and Rihanna's "Diamonds"
Both verses have the same slow-and-steady, 2-and-4 beat, the same somber timbral palette and similar chord progressions. Both break into choruses that drag a similar mood over a layer of bigger synths. It's hardly coincidental that both proved to be massive No. 1 hits.
Easton Corbin's "Baby Be My Love Song" and A Thousand Horses' "Smoke"
So many elements of these two songs are nearly identical: the chords, the melodies and the timbres, down to the little guitar fills following the chorus. Small stylistic idiosyncrasies are the only things that differentiate them. The same goes for many of the biggest pop country songs. Last November, Nashville songwriter Greg Todd merged six of country's biggest hits into a seamless pop country monstrosity. It's all formula.
Adam Lambert's "Ghost Town" and Jack Ü's "Where Are Ü Now"
The rise of dubstep and EDM brought a whole new set of sounds onto the scene in the late aughts, but they quickly developed their own formulaic aspects. So many mainstream EDM artists structure their songs around "the drop," or the massive dance break following a long build-up — to such an extent that Saturday Night Live mocked it in a 2014 Digital Short. The drops in these songs are a bit atypical, but both have the same subdued wobble bass and haunting, chopped-up flute melody. Everything that hits once in the pop world will hit again.
Rachel Platten's "Fight Song" and Katy Perry's "Roar"
Rachel Platten's "Fight Song" owes a lot to "Roar." Same That Tune points out that the marching drums, bass drone and chant vocal reverb from "Fight Song" come straight from Katy Perry's own female empowerment anthem. These anthems don't need to sound one way — though it's often far easier for them to chart if they do.
The pop industry doesn't put much effort into innovation, but they will if consumers start catching on to the homogenization and start demanding more.