Zendaya Just Hit Back at Hair Haters in the Best Possible Way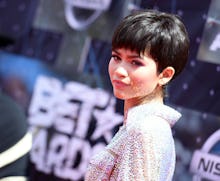 Leave it to Zendaya to one-up the hair haters out in the peanut gallery. After Twitter users chimed in with criticism about the short hairstyle that Zendaya wore to the BET Awards on Sunday night, she let everyone know exactly how much she cared:
Zendaya's response impressed many for a number of reasons, beyond the double use of #idgaf. 
As someone who's been hit with criticism of her hair before, she took ownership of the conversation yet again, particularly by sharing a Snapchat (retweeted by @bombblackgirlss) in which she revealed her hairstyle was in fact a wig:
It's not the first time that Zendaya's been upfront about wearing wigs, nor is it the first time her hair has gotten people talking. 
In March, Zendaya posted a short clip on Instagram where she tells the camera, "So many people get stressed every time I wear a different hairstyle on the red carpet. It's called a wig people, ok? W-I-G, say it with me now, wig."
In February, E!'s Giuliana Rancic infamously critiqued Zendaya's dreadlock hairstyle at the Oscars, saying she must have smelled of "patchouli" and "weed." Zendaya publicly blasted Rancic on Instagram for the comments:
"There is already harsh criticism of African-American hair in society without the help of ignorant people who choose to judge others based on the curl of their hair... 
This time around, Zendaya's choice to confront the wig haters at the BET Awards, then to publicly remove her hairstyle afterward, was a moment of honesty regarding how celebrities, particularly women of color, are represented in the media. 
Celebrating, not hiding: Wigs are standard for black celebrities in Hollywood, as Franchesca Ramsey noted on Upworthy in November. "There's a long, complicated history of black women being told by society that their natural hair is unprofessional, ugly, distracting, and a whole host of other insults," Ramsey wrote.
That's why examples of black women taking off their wigs to expose their natural hair for the camera can be such an empowering act. Viola Davis' character in How to Get Away with Murder removed her wig in an emotional scene that was so powerful that months after the episode aired, Davis is still fielding questions about it. 
"It's not always about being pretty," Davis told The Wrap last week. "But it is about uncovering and feeling comfortable with the way we are and the way we look when we're in private. You know, as soon as you walk through the door, what do you do? You take off your bra, you let your titties sag, you let your hair come off — I mean my hair," 
Zendaya's choice to acknowledge her wig and take on the haters is just the kind of refreshing honesty that Hollywood and fans need to see. And it's a badass honesty that's clearly appreciated: 
h/t JustJared.com