Watch Kendrick Lamar's Epic Politically-Charged Performance of 'Alright' at the BET Awards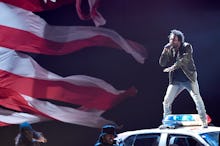 Kendrick Lamar is never content playing his song the same way twice. To kick off the BET Awards Sunday, Lamar staged a politically charged version of his anthemic "Alright," rapping from on top of a tagged-up police car. He engineered some clever breaks and added an entirely new outro, taking the song to a whole new level.
Standing in of that ragged American flag with his crowd of dancers looking up at him, Lamar looked like a true revolutionary. And he rapped like a man deserving of the best male hip-hop artist award he won later in the night, hitting the most difficult runs and melodic passages effortlessly.
His staging brought out the police brutality themes that run through the song's opening verse, which Lamar rises above during the song's riotous, empowering development. His new outro added a vicious "Control"-esque edge to the song, with Lamar asserting his "innovator, energizer" status to anyone in doubt.
No other performer could have opened the BET Awards with more urgent, fiery energy than Kendrick Lamar. The Compton MC is relentlessly innovating his own sound and the sounds of the genre as a whole. Under Lamar's leadership, hip-hop is going to be all right.
h/t Hot New Hip-hop