This Florida Photographer Had the Best Response to an Anti-Gay Marriage Troll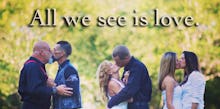 With the full effects of the Supreme Court's decision to expand same-sex marriage across the United States still sinking in, opponents and defenders of the ruling have risen up on social media to make their voices heard. 
Clinton Brentwood Lee is one such defender, and when the owner of Brentwood Photography confronted a hater on Facebook, his response instantly went viral.
The story began after Lee, a wedding photographer based in St. Petersburg, Florida, changed his businesses' Facebook photo icon, bathing it in a rainbow to show his solidarity with LGBT Americans. The imagery is immediately familiar to anyone who used Facebook over the weekend. 
But the decision didn't sit well with one customer, who let Lee know what she felt about it. "I get an email at two in the morning from a client of mine, who basically said she was not in favor of me supporting the gay community and gay rights and she would not be using my services," Lee told Mic.
The customer went on to demand the return of a $1,500 retainer fee — which Lee refused to grant, citing the nonrefundable clause in the contract she had signed. Lee then went on to add that he would actually not be keeping the fee, but would instead donate it to GLAAD, an LGBT media advocacy organization. "When you get a mail with that kind of hate, you can't be 100% professional about it," Lee said.
Lee posted a screenshot of the altercation on Saturday, and it instantly went viral — so far, it's been shared by more than 10,000 people and liked by more than 63,000. 
Read the full takedown:
Lee told Mic he had only done about 10 same-sex ceremonies previously, but that he expected that would change in light of his newfound fame. 
"I'm getting a lot of emails and inquiries about it all over the world," he said. "Everyone deserves their happily ever after." 
Speaking from Thailand, Lee said he had received about 500 emails since his posting on Saturday. The response online has been a mix, with some jumping to Lee's defense, while others attacked his pro-equality stance.
For his part, Lee bears no ill will for the original troll who got the ball rolling. He told Mic he was actually curious about how she would respond to all the reaction she's generated. 
"I don't want to rub her nose in it." he said. "I just think everyone deserves the opportunity to live their own life and not be judged."
h/t BuzzFeed