Rihanna Premiered the Trailer for 'Bitch Better Have My Money,' and It Looks Incredible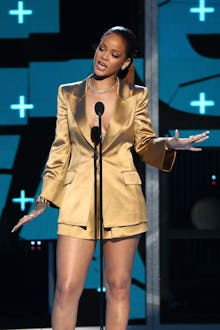 At the BET Awards on Sunday night, Rihanna treated viewers to a preview of the upcoming music video for her single "Bitch Better Have My Money." The track is Ri Ri's latest off her upcoming LP, the yet-unnamed eighth album for the Barbadian singer. The full video will debut Thursday via Tidal, but she showed a titillating two-minute clip to tide fans over until its release. 
The video features Rihanna out to collect the debt that's due. 
First, we watch a woman put on makeup in her mansion:
Ri Ri pulls up outside in a truck.
Then drags an ominous-looking chest out of the back.
This high-roller goes to the elevator with her dog.
... And who's waiting there but Rihanna with her chest. 
Rihanna's night at the BET Awards was eventful. BET seated her next to Floyd Mayweather during the ceremony, and Twitter was not happy about it. Many argued that seating Rihanna, a domestic abuse survivor, next to Mayweather, a domestic abuser, was in bad taste. 
The reason they were seated next to each other became clear when Rihanna, who had been carrying around a roll of duct tape, bound and gagged Mayweather. Some on Twitter were quick to jump on it as a tasteless joke. 
But the stunt was more likely a nod to Mayweather's lifestyle brand The Money Team and its juxtaposition to Rihanna's "BBHMM." 
Ill-thought promotions aside, the trailer for Ri Ri's latest single has fans begging for more.