Japanese Designer Just Demonstrated How Not to Borrow From Another Culture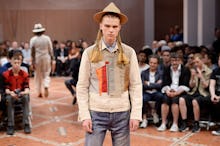 Yet another racially tinged fashion controversy is brewing, this time over on the Paris runways, where one Japanese designer staged an African-themed fashion show ... with no models who appeared to be of African descent.
On Friday, designer Junya Watanabe presented a menswear show with models draped in beads, bones, masks and other tribal accoutrements. The African-inspired pièce de résistance: headpieces piled high with braided, twisted hair.
And none of the models appeared to be black. The disconnect prompted immediate outrage Twitter, including tweets that cleverly highlighted the appropriated hairpieces with Rachel Dolezal comparisons: 
Inspired or appropriated? As Style.com noted, the collection was created in collaboration with Vlisco, a Dutch company that is among the biggest fabric suppliers to West and Central Africa. 
Vlisco, which creates African-inspired prints, is hugely popular with female African shoppers, according to the Business of Fashion. While the company started selling in Europe in the 1800s, it quickly turned to the African market including countries like Nigeria, Ghana and Ivory Coast, spreading "to such an extent that Vlisco is now an authentic part of the cultural fabric" in West Africa. 
Despite that connection to the continent, the collection's blatant use of African symbols and styles reeked of appropriation. (Mic has reached out to the design house for comment and will update when we hear back.)
Critics on Twitter have pointed out how establishment fashion critics, such as Tim Blanks of Style.com and Miles Socha of Women's Wear Daily, seemed to bend over backward and sideways to avoid mentioning race in their reviews. 
How to avoid appropriation: Not featuring models of African descent and not working directly with designers from Africa (which Watanabe doesn't appear to have done) are classic mistakes that risk turning inspiration into cultural appropriation. And it's a conversation, unfortunately, that feels all too familiar. 
Just last week, Teen Vogue faced similar accusations of exclusion after featuring Senegalese hairstyles on a light-skinned, mixed-race model. Magazines have faced even harsher criticism when highlighting African styles on white models in blackface.  
As numerous academics and critics have said, the best way to take "inspiration" from another culture is to actually connect and work with people from that culture. That can mean establishing direct contact between designer and wearer so the original meaning is preserved, as Rihanna did when she wore a Chinese dress made in Beijing by a native designer to the Chinese-themed Met Gala in May. 
It can also mean getting models from the represented community to display the designs. Watanabe might have been trying to send a message about Western colonialism, as Style.com suggested. But he had to have known an "African" runway without a single black model would get critics' tongues wagging, and not in a good way.
h/t The Cut