Kanye West Proved He's One of the Last True Rock Stars With His Glastonbury Set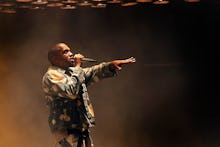 A lot of people wanted to see Kanye West fail at this year's Glastonbury Festival in the U.K. Since March, a petition has gathered over 130,000 signatures to force West out of his headlining slot and replace him with a rock band. But Glastonbury wasn't having any of this anti-Kanye rhetoric. Festival co-founder Emily Eavis came to his defense, claiming in a Guardian op-ed that West is a "music legend, always interesting, never boring." They knew he would kill his set, and when it came time Saturday, that is exactly what he did. Because he is one of our last true rock stars.
Under a massive ceiling of blinding white lights, West ran through a 30-song set that featured nothing but hits. His stage was bare, his banter minimal. He made precious few attempts to win over the audience or ease them into his stacked set. He kicked off with "Stronger" and transitioned straight into "Power" before hitting "Niggas in Paris." The set was polemical, a display of unwavering creative ferocity start to finish, petition signers and rock purists be damned. He did, however, give them a cheeky nod towards his close when he led the crowd through a singalong of Queen's "Bohemian Rhapsody." 
The crowd sang along full voice, still enraptured with his performance an hour and a half in.
Instead of attacking his critics, West thanked all his fans for being there and letting his set speak for itself. The only major hiccup came during "Black Skinhead," when a fan, comedian Lee Nelson, barged onto stage with a mic in hand. After security forcibly removed Nelson, he explained himself in a tweet: "Some people were saying Kanye shouldn't headline Glastonbury so I thought I'd give him a hand," along with a picture of himself rocking a Leezus shirt. But West didn't miss a beat. He restarted his song and powered through.
West's only invited guest was his frequent collaborator, Justin Vernon of Bon Iver, whom he described as the "one of the baddest white boys on the planet." Vernon helped West perform their songs "Hold My Liquor" and "Lost in the World."
"[T]his song was extra special to me, so we're not going to run through it in two minutes like it's a radio joint," West said of the latter track, telling the crowd how some of the words — "you're my heaven, you're my hell" — came from an email he sent professing his love to Kim Kardashian. 
It was the most humanizing and down to earth moment of the otherwise monolithic display of his decades of musical dominance. In an interview with Q Magazine shared Saturday, Kanye called Glastonbury fans' petition against him "an insult to music fans all over the world." He truly made it seem that way. His set brought in a little of every style, every genre. He followed his vision without compromising a single aspect. 
Rock 'n' roll is not the vibrant genre it once was, but its attitude is still alive in places. "I'm going to say this tonight because 20 years from now, 30 years from now, 40 years from now, I might not be able to say it," West said to end his set. "You are now watching the greatest living rock star on the planet." His set was defiant, unpredictable and starkly original — like every rock star's should be. 
Watch the full set here.