Caitlyn Jenner Made Her Public Debut at Pride, And It Was Amazing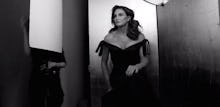 Caitlyn Jenner has arrived, and she is proud.
The transgender icon made her first public appearance after coming out at New York's Pride festival Sunday. Jenner was reportedly in attendance to shoot an episode of her upcoming E! docu-series I Am Cait. Her appearance may have been a surprise, but it was exactly the right venue.
According to ET Online, Jenner appeared at the party to support her friend and fellow trans icon, Candis Cayne. Cayne was performing at the party and even dedicated a song to Jenner during her set. (The song was, appropriately enough, "I Am a Woman.")
The party wasn't meant to be Jenner's first public appearance — that was set to be July's ESPY Awards, at which she'll receive the Arthur Ashe Courage Award. Still, there's something poetic about the Olympian's debut in public after first coming out on the cover of Vanity Fair.
Jenner is currently balancing two personae: that of Jenner the former athlete and Jenner the current trans role model. So far, she's done beautifully, but that hasn't stopped critics from attacking her. NBC's Bob Costas went so far as to publicly slam the ESPY Awards' decision to give her the Arthur Ashe award, saying that coming out as trans only required "some measure of personal courage" and wasn't truly deserving of the honor.
In surprising everyone with an appearance among her newfound community at Pride, Jenner is multitasking. She's both embracing her new supporters while defiantly standing up to bullies like Costas. She's staking her claim as both athlete and trans icon, making clear that the two Jenners aren't two different people. They're just parts of a strong, complicated woman.
For her part, however, Jenner isn't breaking a sweat. She's just having the time of her life.
We'll see more of Jenner's Pride appearance after I Am Cait premieres on E! July 26. Watch the trailer for the show below.