Texas Pastor Won't Actually Set Himself on Fire Over Same-Sex Marriage Ruling, He Decides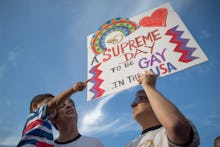 Perhaps unsurprisingly, a Texas-based pastor who said he'd "burn" if the U.S. Supreme Court legalized same-sex marriage isn't actually going to set himself on fire, he clarified on Friday.
The Advocate reports Rick Scarborough of Pearland, Texas, was speaking figuratively, not literally, when he made the widely reported comments in a conference call with his supporters on June 16.
"We are not going to bow, we are not going to bend and, if necessary, we will burn," Scarborough told fellow right-wing clergyman E.W. Jackson during the recorded conversation.
But now that SCOTUS has issued its Obergefell v. Hodges decision — ruling that same-sex marriage is indeed protected under the 14th Amendment of the Constitution — Scarborough's tune has shifted somewhat.
From the Advocate:
"'I made that comment to paraphrase a spiritual song, 'Shadrach, Meshach and Abednego' in which the three were given a choice — to bow to the image of Nebuchadnezzar or burn in a furnace," said Scarborough.'"We will burn' means that we will accept any sanction from the government for resisting [Friday's] Supreme Court decision. We do not support any violence or physical harm."
Totally. Self-immolation in the name of political causes is a relatively well-documented occurrence. Buddhist monks in East Asia in particular — most famously in their protests against the Vietnam War and, more recently, China's treatment of the people of Tibet — are the group that's perhaps most commonly associated with the practice.
On June 23, 2014, another Texas-based pastor, 79-year-old Charles Moore, died by suicide in his childhood hometown of Grand Saline, Texas, when he set himself on fire in an apparent protest against "capital punishment, racial discrimination [and] prejudice against the LGBT community," the Washington Post reports.
They are company that Pastor Rick Scarborough will apparently not be joining anytime soon.
h/t the Advocate