Miley Cyrus Is Using Instagram to Profile the Beautiful People Fighting for Trans Rights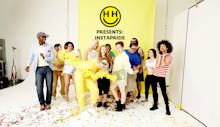 Miley Cyrus' LGBT rights foundation, the Happy Hippie Foundation, is starting to have profound positive impacts on LGBT youth. 
Launched in May, Cyrus set out to raise awareness of her organization through a series of cover songs recorded alongside her high-powered celebrity friends, including Joan Jett, Ariana Grande and Laura Jane Grace from Against Me! It was an epic run, but Cyrus' latest campaign has brought the foundation's work back down to earth where it needs to be.
For the past two weeks, Cyrus has been running an #Instapride campaign in partnership with Instagram and other publications. She has profiled some important voices central to the trans rights struggle and movement. They're community activists, marriage advocates, YouTubers, filmmakers and students. Each has a powerful story to tell. 
These are the faces and voices on the front lines of trans rights that people need to see — glitter, streamers and all.
AJ Lehman was the first transgender individual Cyrus shot for her series, according to Entertainment Weekly in a breakout post covering his profile. "The first thing I asked AJ was if he wanted to wear a yellow shirt, and he took off his shirt and said 'It took a lot to look like this and I want to show it off!'" Cyrus told Entertainment Weekly. "So much confidence! Two minutes in there was confetti everywhere and AJ had started the party!"
Lehman was born female and transitioned between junior and senior years of high school. His classmates were supportive, but it wasn't until he got his first job and began to meet new people who only knew him as a man that finally "opened the window to hope," as he said.  
"I spent a lot of time thinking 'It doesn't matter what other people think of you' because I thought that was the best way to live your life and be free," Cyrus quoted Lehman as saying on Instagram. "But as I've transitioned I've found there's a difference between not caring what others think and them not having understanding or tolerance. And that's what gave me the initial drive to educate others."
Mariana Marroquin and Alex Schmider both work at the Los Angeles LGBT Center providing services for the LGBT community. Marroquin specifically offers legal advice to transgender individuals. "I'm very good making people feel safe and show them a better life full of possibilities, no matter where they are coming from," she said, according to Cyrus' Instagram.
Marroquin herself fled from Guatemala when she was a teenager after facing abuse and persecution. She was elated to be taking part in the photo shoot. "For someone that famous to say, 'Hey, I'm looking at you. I know who you are, and I celebrate you,' that means the world," she told Time.
Others, such as Greta Gustava Martela, pictured above alongside her wife Nina Chaubal, were a little more skeptical about taking part in Cyrus' shoot. "You have all those fears that you would normally when somebody from outside the community tries to rush in and save us," Martela told Time. "So often that's a disaster. But then seeing what she's doing — she's bringing in people from the community and really seems to have done her homework." 
The two co-founded Trans Lifeline, a nonprofit hotline staffed by transgender operators "ready to respond to whatever support needs members of our community might have," as their website reads. It seems Cyrus passed the test as a fitting ally to help them spread their message.
"My advice to someone who is transitioning is to definitely meet other trans people and have at least a few trans people you are close to," Chaubal says, as quoted by Cyrus. "When you are working out your gender identity, it is super important to have some people you can confide in and get support from."
Cyrus also has profiles of Gigi Gorgeous, a trans YouTube sensation; Tyler Ford, staff writer for Rookie; transgender social justice teaching and performance artist, Precious Davis, and her husband Myles Brady; advocate and activist Leo Sheng; and high school student Brendan Jordan. 
Each of the profiles showcases a powerful, all too frequently overlooked voice, and highlights important trans rights resources individuals can rely on in times of need. The campaign is not nearly as flashy or provocative as her recent pink armpit campaign or her Paste magazine cover where she posed naked with her pig. But it puts the focus where it needs to be: on the people pushing trans rights forward. Because even though the LGBTQI community won a major victory Friday with the nationwide legalization of same-sex marriage, the fight for true acceptance and equality is far from over. 
"Did you know in many states, it's still perfectly legal to fire someone for their trans status? Or that they can be kicked out of their homes?" Sheng wrote in a post regrammed by Cyrus. "What I may or may not have between my legs is of no one else's business, especially not the government's."
Thankfully, Cyrus and all the allies involved with Happy Hippie will continue to help those leading the charge.