You Won't Find These Gorgeous Bras In Victoria's Secret — But You Should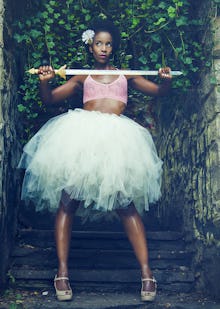 Finding a bra that fits is tough. Finding a bra that fits when you've had a double mastectomy at 28 can be nearly impossible.
Popular lingerie stores specialize in the latest shapes and colors but tend to fall short when it comes to suitable options for those who have had mastectomies due to breast cancer. Dana Donofree was one such woman, finding herself with few options as a cancer survivor in her late twenties.
So she started AnaOno Intimates, a line of lingerie designed for women who've had surgery related to a breast cancer diagnosis but still want something that can make them feel beautiful. The company soft-launched back in the fall and is rolling out a formal debut this summer.
After surgery, Donofree told Mic in an email, "I felt a loss of identity and a loss of my 'sexy' self, and every day was a struggle, not only physically, but emotionally ... Finding a bra that resembles what we wore before cancer changes everything, from attitude to confidence to the clothes we wear."
But it's not an easy find. Despite the fact that over 200,000 American women will be diagnosed with breast cancer in 2015, and despite the fact that 93% of early stage patients and 75% of late-stage patients will get surgical treatment, mainstream stores like Victoria's Secret don't carry so-called "survivor bras." 
Part of the problem, as Victoria's Secret reported after researching the process, is that post-op bras are "truly a science." As Elisabeth Dale wrote in the Huffington Post,
"It's not just the scar tissue or individual surgical sites involved, it's also the size and type of prosthetic a woman buys and wears. Some are heavy or lighter, and they're sold in numeric sizes, not like alphabet cups bras. To give you an idea of the complexity of this task, [breast care brand] Amoena requires a minimum of 500 hours of special training to qualify as one of their certified mastectomy bra fitters."
For decades, woman who wanted a mastectomy bra had to order it from a medial supplier or choose from only a handful of specialty boutiques, Dale said. 
Now there are more options, but designs are still limited. Donofree told Mic the most common option is a "pocketed" bra, which leaves room in the cup for a prosthetic. But the cup structure doesn't fit well with the implants many women get after reconstruction, making for an imperfect fit.
AnaOno bras do away with the molded pockets as well as the extra space for nipples, as many women don't have them after reconstruction, Donofree said. Making breast cups that better fit the typical round shape of implants also helps, she added.
The point, Donofree said, is for women to feel both strong and beautiful again — which was the inspiration for AnaOno's latest campaign, titled "Never Alone." The dreamy photos feature models posing as powerful ballerinas brandishing swords that symbolize the battles with illness they've overcome.
"It's a symbol of the fight and the strength these women endured and found during their cancer treatment and as they head back into their lives after cancer," Donofree said.
At such a young age, women like Donofree have plenty of fight left in them. If mainstream stores like Victoria's Secret won't take note, they'll keep fighting their own way.