Iggy Azalea Blames Britney Spears for "Pretty Girls" Flop With the Worst Possible Tweet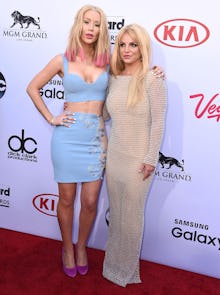 Right when people were starting to take pity on Iggy Azalea and the tragic downward spiral that is her career, she had to go and fuck it all up.
On Sunday, Azalea took to Twitter to respond to explain why "Pretty Girls," her recent collaboration with Britney Spears, hadn't taken over the summer, like last year's "Fancy" did. She gave a straightforward explanation with a little shade on Spears and her team.
But it quickly spiraled out of control. When media outlets started writing about the story, suggesting she was criticizing Spears, Azalea backtracked and her tone turned vile.
Nasty. The post which attracted Azalea's comments was nothing more than an unassuming pop blog. It was also filled with commenters mostly agreeing with her that the song didn't get enough promotion. Her second tweet escalated the situation tremendously. Now she's trying to clarify her point to any and all publications running any sort of story about it.
Azalea called Billboard's story "cringe-worthy," clearly failing to recognize the cringe-worthiness of comparing her friendship with Spears to asshole-sucking.
The Britney Army has not taken it well. And they're making sure the story goes viral.
The saddest part: Azalea's initial point is not wrong. More promotion would have helped the song, because a massive promotional push can make any terrible song soar. But her asshole comment distracted from that truth. 
Case in point: "Fancy." The song received a massive marketing push from Clear Channel's On the Verge program last year, when the corporation insisted that each of their 840 radio stations had to play the song a minimum of 150 times. If it hadn't, it likely would have flopped like the three singles she released before it. 
This latest fiasco probably won't be as bad as the cultural appropriation war from December, or the backlash she faced for her the comments about homosexuals or Asians or black people which forced her to cancel her appearance at a Pittsburgh Pride event earlier this month. But there's one more silver lining for the rest of us: Iggy Azalea will probably be quitting Twitter again very soon.
h/t Complex